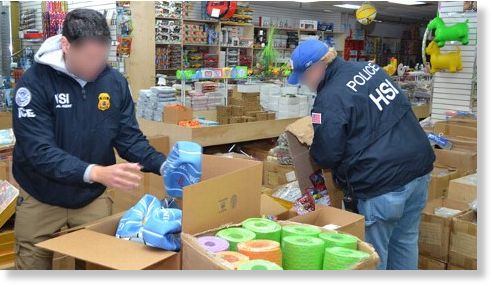 The children's scooters imported into the United States from China by ZY Wholesale Inc. may have looked like ordinary scooters and basketball sets like ordinary basketball sets but federal prosecutors in Brooklyn said today they contained high levels of lead and toxic chemicals.
ZY Wholesale's owner, Chenglan Hu, is one of five New York City-based importers charged with illegally bringing hazardous and counterfeit toys into the country.
"For years, the defendants sought to enrich themselves by importing and selling dangerous and counterfeit children's toys without regard for the law or the health of our children," said Loretta Lynch, U.S. Attorney for the Eastern District of New York.
Just today authorities seized five tractor trailers worth of counterfeit/dangerous goods worth an estimated $10 million to $15 million.
"It's a ton of merchandise and a ton of money," said James T. Hayes, special agent in charge of Homeland Security Investigations in New York.
It was a lucrative business. Lynch alleges that profits from the counterfeit items and the toys riddled with lead and choking hazards provided the defendants with luxury cars, including a Lexus and a Porsche.
Thirteen kids younger than 15 died in toy-related deaths in 2011, according to the Consumer Product Safety Commission. That is down from 19 fatalities in 2010 and 17 reported in 2009.
In this case the dangerous toys began arriving from China in 2005, according to court records. The defendants, three Chinese nationals and two naturalized American citizens all living in Queens, had numerous shipments intercepted by US Customs and Border Patrol but each time allegedly formed a new company to continue their illegal activity, prosecutors said.
The indictment charges that from July 2005 through January 2013 the individual defendants used their companies, the corporate defendants, to import toys from China that they sold, both wholesale and retail, from a storefront and warehouse in Ridgewood, N.Y., and other locations in Brooklyn and Queens.
"They allegedly sold toys with high lead content and cheap knock offs with substandard parts that break easily and pose a choking hazard," said James T. Hayes, special agent in charge of Homeland Security Investigations in New York.
The counterfeit merchandise involved popular children's characters like Winnie the Pooh, Dora the Explorer and Hello Kitty. Assistant Attorney General Lanny Breuer called it "blatant intellectual property theft."