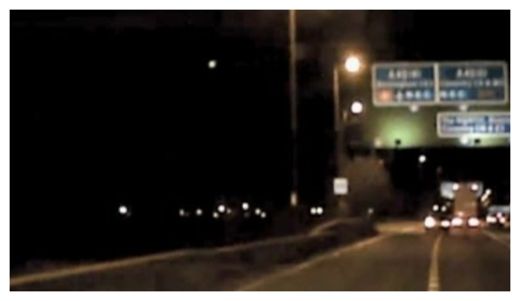 A taxi driver has captured film of a suspected meteor over Birmingham Airport.Paul Duggan filmed the object on a dashboard camera he uses to record bad driving, at 21:05 GMT on Wednesday. Mr Duggan said he initially thought it might be an aircraft crashing.
Gary Fildes, from the Kielder Observatory in Northumberland, said the meteor was visible for 10 to 15 seconds - 10 times longer than usual - and was "quite a sight".
'Very bright'
He said he had been hosting a public outreach project at the observatory when the meteor appeared.
Mr Duggan said: "It was like a big flame coming down, very wide."
Train driver Andy Rosser also saw the light in the sky as he pulled in to Solihull station.
"I caught a glimpse of a very fast moving, very bright light with maybe a little green look to it and I thought: 'What the hell was that?'," he said.
Mr Fildes said the colour of the fireball meteor suggested it was probably made of iron, and was about the size of a human fist.
There were reports on Twitter of the fast-moving green/white object being seen from East Anglia to Scotland.