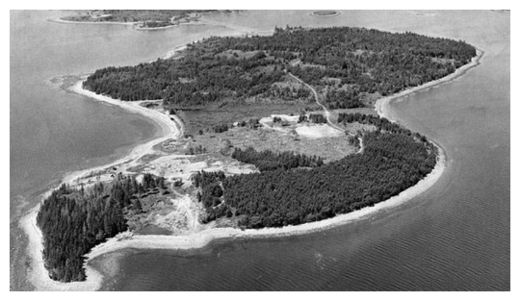 Bridgewater - Petter Amundsen looks upon the beautiful fresh snow that has blanketed the world around the Evangelical Lutheran chapel, where he plays the organ.
It's an incongruous setting, given the conversation in which he is engrossed.
Amundsen is in Norway, where his day job as chapel organist means he has played for King Harald V and Queen Sonja. But he's talking about what has gripped his heart for the last 10 years - uncovering the secrets of Oak Island in Mahone Bay.
His efforts culminated in a film released in Norway last year that will be shown in London this spring, but the amateur cryptologist is making plans to show it beforehand in Nova Scotia.
The film will debut in 40 theatres in England beginning April 23, though Amundsen would like a screening in Chester on April 13, a year to the day after its release in Norway.
Amundsen has made three trips to film on Oak Island since 2003, the most recent in 2011. He believes the movie will generate interest in Oak Island and boost tourism in the region.
"From the interest gathering in Norway, I assume there will be tremendous international interest as well," Amundsen said.
"It is a very effective film that is creating enthusiasm around the Oak Island saga.
"People come out of the cinema with stars in their eyes. This is something quite effective that could impact tourism if it is handled well."
Chester Playhouse general manager Erick Bickerdike is holding April 13 open.
"It sounds like a very interesting film; we'd love to have it here."
The provincial Tourism Department said it will contact Amundsen about potential opportunities to show the film that could involve museums.
Amundsen has some unconventional theories about Oak Island but said he can prove them through the analysis of symbols, cyphers, codes, astronomy, literature, mathematics and history.
He has published a book about his theory that William Shakespeare's works were actually written by Sir Francis Bacon and his nephew, Sir Henry Neville, and that those manuscripts could be hidden on Oak Island.
He made a four-part television series based on the book that aired in Norway in 2009, and released his film
Shakespeare: The Hidden Truth
last year.
But his theory doesn't stop with Shakespeare, and his final conclusion is quite shocking.
The documentary follows the tale of English actor and Shakespearean scholar Robert Crumpton, a fierce critic of Amundsen who "decided to go to Norway to knock some sense into my stupid head," Amundsen said.
Crumpton travelled to Oslo, where he met Amundsen in the chapel where he plays organ. From there, the two began a road trip that took them to England, Switzerland and, eventually, Oak Island.
Amundsen said he had the support of Oak Island land owner Fred Nolan to visit and film at the location he believes holds the secret to the island's treasure - Nolan's Cross.
"I've measured it, I've been into the swamp and researched the bottom of it and looked at photographs. The so-called money pit, that's not a big part of my theory." Amundsen said.
Amundsen said he believes the Nolan's Cross site holds the lost treasures of Jerusalem - in particular, the menorah that was in the Second Temple of Jerusalem.
"The evidence put forth in the film is quite strong," he said. "Scholars have been trying to pull my theories apart for several years now and they're not able to do so."
Amundsen conceded his theory is "difficult to tell without sounding like a mad man's ramblings," but he said his film makes everything clear.
There are a number of theories about where the menorah and other temple treasures could be. Some believe it is in the Vatican's storerooms, others believe it is at the bottom of the Mediterranean Sea, while a British archeologist has argued it was returned and is in the West Bank.
Amundsen said the emperor Titus took the menorah from the Second Temple of Jerusalem to Rome after the fall of Jerusalem in 70 and placed it in the Temple of Peace. He said it stayed there until Rome was vandalized in 455, and then the temple treasures were taken to Carthage.
The menorah and other objects were said to be seized by a Byzantine general in 534, and the sacred objects were brought to Constantinople.
Amundsen said it was believed the menorah brought bad luck to every city it was in. Some say it was sent back to Jerusalem, but there is no record of that happening. "That's where the track stops," Amundsen said.
He believes the trail is picked up in the1600s and that Freemasons brought the temple treasures from Scotland to New Scotland - Nova Scotia - and specifically to Oak Island.
Amundsen said geometry, history, astronomical data and symbols of Judaism, Christianity and Freemasonry support his theory that Oak Island is the site of the long-anticipated Third Temple - not a building but a place - a geometric pattern in the ground where two faiths merge, with the joining of the Christian cross and Jewish tree of life.
"It's a fantastic theory story that I think has merit," he said. "It's quite a fantastic idea but it's the only thing that makes sense when you look at the evidence. It's just a fantastic idea. You look at the evidence and that is the solution that is easiest to get at."
But he said he hopes he never knows for sure. He wants the site left untouched, saying it would create too many problems if the treasures were recovered.
All he wants to do is tell the story effectively and create interest in the site, and Amundsen hopes others will join the debate.
"I get emails every week from people who find things I haven't seen. My theory is just a theory. It's open for lots of debate, and I love that."
Amundsen said he cannot offer a "qualified opinion" on scientists' views that the so-called man-made underground workings on Oak Island are nothing more than the region's natural geology.