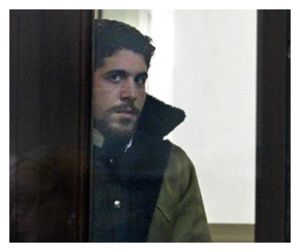 An alleged devil worshiper has been charged with harassing and threatening to kill a 25-year-old fitness instructor he met at Faneuil Hall, and then carving satanic symbols on the glass of his holding cell after his arrest, authorities said today.
"Enjoy your dreams, sweetheart. Chances are you will never wake up," and "How would you like to find out what it's like to be burned alive?" are two of several disturbing text messages and voicemails Christopher Cori is alleged by Boston police to have sent the terrified victim over a two-day period.
Cori, 21, of Rockaway Beach, Queens, N.Y., was ordered held on $100,000 bail today on charges of making threats to kill, criminal harassment, making annoying and harassing phone calls and willful and malicious destruction of property.
He was arraigned today in Brighton District Court where he was also sent to Bridgewater State Hospital for observation.
According to investigators, Cori met the woman Jan. 19 at the Cantina & Tequila Bar downtown and obtained her business card by expressing interest in taking fitness classes. He falsely told the woman he was a New York City cop, authorities said. She told police she became alarmed when he started playing with a knife and then gave her a bronze pocket watch as a gift.
Police described Cori's Facebook page as "alarming" as well. They said his interests include "Satan, drinking human blood, deflowering virgins" and the TV show
Dexter,
which is about a serial killer.