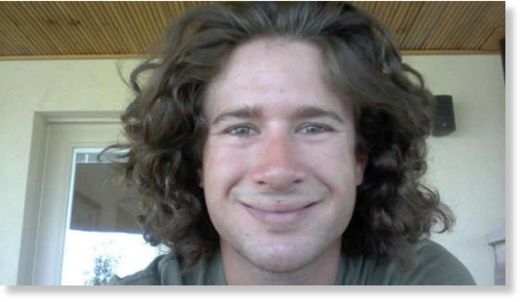 Deputies in Fort Meyers say they Tasered and then arrested a naked Florida man who broke into a home to steal a television but then masturbated and defecated after the homeowner pulled a gun.
Lee County Sheriff's deputies said they were called to a home in North Fort Myers on Monday after the resident heard noises on the roof of his home,
according to WTSP
. The victim went outside where 21-year-old Gregory Matthew Bruni allegedly jumped from the roof and knocked him down.
"He dropped off my roof and run right in my house," the homeowner said in a 911 call
obtained by WBBH
.
The victims said that Bruni, who was naked, ran into the living room and broke a 72-inch television in the process of pulling it off of the wall. The suspect then spilled a the contents of a wet/dry vacuum onto the floor.
As Bruni was allegedly headed to where guns were stored in the son's bedroom, the wife fired three shots from a .38 revolver, possibly as a warning.
An arrest report indicated that Bruni fell to the floor and began masturbating. He then ran to the son's room and rubbed his face with clothing.
"He's laying on my floor," the homeowner told 911 operators. "He run in my fucking house naked, hooting and hollering and tearing shit up."
The husband retrieved a 12-guage shotgun and held Bruni at gun point until police arrived, according to the arrest report.
"Lay down, motherfucker, lay down," the husband could be heard shouting.
When deputies arrived, they said Bruni was flailing around on the floor and not making any sense. At one point, he sucked the water from the spilled vacuum into his mouth and spit it back out. Bruni was eventually shocked with a Taser after he tried to flee several times.
"Deputies later discovered Bruni defecated near the front door and in a hallway inside the residence," WTSP reported.
The suspect was taken to Lee Memorial Hospital, but doctors had not yet been able to determine "what Bruni was on." As of Tuesday, Bruni was still at the hospital. He was facing charges of two counts of Criminal Mischief, Battery, Occupied Burglary and resisting without violence.
Watch this video from WBBH, broadcast Jan. 22, 2013.