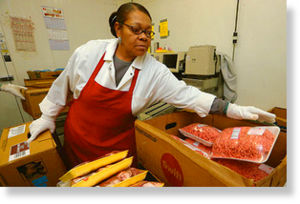 If you thought you spent more at the grocery store last year, it wasn't your imagination.
And you'll be paying even more this year.
A study conducted by agricultural and food industry consulting group FarmEcon said the average family of four paid more than $2,000 above expectations last year.
That represented an additional $162 billion spent on food in 2012.
"I'm not sure exactly how much more I spent on groceries, but I know it's more," said Jeanette Stinson. "I'm paying more for meat and dairy, for sure. And with gas prices the way they are, we're just getting hit from all sides."
For Stinson and other shoppers, they'll only see the recent upward migration of food prices continue this year.
The U.S. Department of Agriculture predicts food prices overall to rise 3 percent to 4 percent this year, higher than the 2.5 percent to 3 percent average over the past 20 years.
The biggest price hikes are expected to be felt with beef. Last summer's drought, more expensive feed and fuel and a smaller supply of beef cattle will push prices higher though at least the middle of the year, the USDA said.
"Beef prices have been high for a while, but beef is unique in that it went up in 2011 by over 10 percent over 2010 prices, and was at a high plateau," said USDA economist Richard Volpe. "But unlike most foods in 2011, beef kept trudging up and up. Only now are we seeing the impacts of the drought."
Bob Knight, owner of Todd's Big Star, said customers have noticed higher prices on hamburger, steaks and other cuts of beef.
"The prices our suppliers are seeing are going up 8 to 10 cents a day in some cases," he said. "There's less beef coming to the market, and the cattle also weigh less. ... the supply really is tight and that's what happens."
FarmEcon's study cited expanded use of corn for ethanol as the biggest factor in food price increases, while high fuel costs also played a role.
Last year was the hottest year on record, according to the National Oceanic and Atmospheric Administration, and the drought was one of the results. Corn, which makes up 90 percent of feed, was hit hard, and feed prices skyrocketed. That had a ripple effect on all animal producers, whose input costs rose.
It takes several months for those costs to trickle down to consumers, which is why the USDA expects food prices to go up this year.
"In 2013, as a result of this drought, we are looking at above-normal food price inflation. ... Consumers are certainly going to feel it," Volpe said.
Area grocers have noticed.
"The staples - flour, milk, sugar, eggs - they're going up because of the weather last year," said Jason Kilgore, co-owner of Kilgore's Supermarket. "Fuel also has a lot to do with it, too. It costs more to get the groceries to the warehouse, and then they pass it on to us."
Consumers are responding by buying more private-label goods, shying away from the more expensive name brands.
The Best Choice and Always Save labels are available at Kilgore's Todd's Big Star and other grocery stores.
"You can save a lot of money going with the private labels," Kilgore said, "and more people are doing that. For example, you might see a can of Del Monte green beans for $1.59, but the Best Choice can might be 79 cents."
The Best Choice and Always Save labels are supplied by Associated Wholesale Grocers, a Kansas City, Kan.,-based distributor with warehouses in Southaven, Memphis and several other location. AWG is a retailer-owned cooperative serving some 2,500 stores in 24 states.
Knight also sells the private labels at his store and said consumers also save when local grocers seek out bargains to benefit them.
"We offer good deals because we've got two or three suppliers to choose from," he said. "We can shop around and can get 5 or 6 cents or more difference in prices. That helps the shoppers because we'll pass it down."
And while beef prices have risen, Knight said pork prices actually have dropped in recent weeks. Chicken prices haven't changed much, he said.
He and Kilgore said they hope prices will stabilize and won't go too much higher. "We'll just have to wait and see what happens," Knight said.