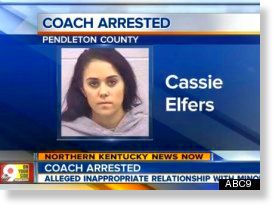 A middle school volleyball coach was arrested for allegedly having an inappropriate relationship with a 13-year-old student in Kentucky, LEX18 reported.
Cassandra "Cassie" Elfers, 21, a part-time volleyball coach at Sharp Middle School in Pendleton County, turned herself in to authorities on Friday, Fox 19 reported, and now faces first-degree sexual abuse charges.
Elfers' attorney Eric Deters told ABC 9 On Your Side that Elfers did not have sex with the student. He noted that Elfers was also a volunteer basketball coach for the team the 13-year-old boy played on. The coach she assisted was her boyfriend.
"I assume this is going to be an allegation of inappropriate touching," Deters said to station LEX18.
Deters previously defended ex-Cincinnati Bengals cheerleader, Sarah Jones, who pled guilty to having sex with a 17-year-old student while she was a teacher.
Pendleton County Schools superintendent, Anthony Strong, released a statement, noting that the district administration acted immediately on Sunday Jan. 13 when they were made aware of a possible inappropriate relationship between a part-time coach and student.
"The matter is now in the hands of the Kentucky State Police and the Pendleton County Attorney," Strong said.
Elfers was released from Kenton County Dentention Center on Friday on a $2,500 bond.