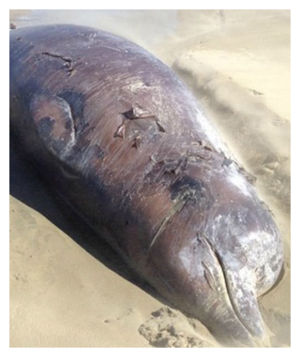 A second rare whale has been euthanised by the Department of Conservation after beaching itself at Sandy Pt yesterday.
It was the second time in 24 hours DOC had to put down an Arnoux's beaked whale, which is relatively rare.
Acting area manager for Murihiku/Southern Islands, Alan Christie, said the whale stranded at Sandy Pt less than a day after an unsuccessful DOC and community effort to save a whale at Omaui Beach.
DOC staff were notified of the second whale's beaching yesterday morning, he said.
The 8-metre-long whale was in a highly distressed state and DOC made a difficult decision, in consultation with local iwi, to euthanise the whale and end its suffering.
While an attempt to refloat the whale would have been ideal, several factors, including the tides and the whale's condition, made this impractical, Mr Christie said.
Among several parallels between the two strandings, he said, were that both whales were females of the same species and yesterday's stranding occurred at the Sandy Pt entrance of Invercargill Estuary, almost immediately opposite the first stranding.
It was reported that a second whale nearly beached on Saturday afternoon. The latest stranding might have been that whale, he said.
The whale euthanised on Sunday appeared to have been attacked by a shark and might have come close to shore to find safety, DOC said.
A similar scenario for the second whale had not been discussed by DOC biodiversity staff at the site, Mr Christie said.
Beaked whales were a deep-water species and the pod's proximity to land and shallow water might have been a factor in the beachings, Mr Christie said.
Scientific testing would be done on both whales for research purposes, and the results might help explain the cause of the beachings.
"Both strandings have placed pressure on DOC staff who are saddened by the outcomes," said Mr Christie. "DOC is grateful for the support that has been given by the community, iwi and Project Jonah staff."
Source: Fairfax NZ News