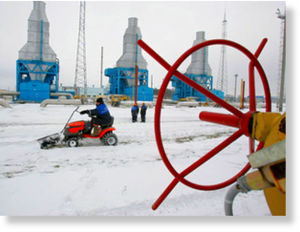 Cold weather in Europe has caused this season's record-high spot prices for gas, crossing the $400 mark. But even this does not make stable but higher long-term contract prices more attractive to European customers.
Over the weekend extreme weather has swept across Europe from the UK to Spain, claiming lives and causing flight cancelations and power outages. The freezing temperatures have forced Europe to consume more gas prompting the spot price to reach $406 per 1000 cubic meter. Gas at Britain's National Balancing Point traded at $398.7 last week which was 8.5% higher than in first week of January.
However, Russia's Gazprom, which in 2011 provided 32% of total gas supplies to Europe, will not benefit much from the rise. Only 20% of Gazprom's gas exports to the EU were spot deals, Sergey Vakhrameev, analyst at Metropol told Vedomosti daily. Long-term contracts make up the majority of Gazprom deliveries, while spot supplies are only 7% of total exports, Vakhrameev added.
The spot market is on the rise in Europe as the price is usually lower than on contract. Thus, contract clients who are loyal to Gazprom are demanding a discount. The average price for current gas delivery to Europe stands at $400 under long-term contracts tied to oil, and the discount can be as much as 21%. Gazprom neither wins nor loses if the spot price keeps changing either way, business expert Yulia Voytovich from Investcafe told RT.
"Prices in long-term contracts are fixed and have nothing to do with changing spot-prices, " Voytovich explained.
However spot-price market may look lucrative for European consumers, who in terms of economic crisis seek cheaper suppliers than Gazprom, Yulia added.
"Spot-price deals look more affordable for European consumers because Gazprom sets its prices at rather high level and is not ready to compromise it in given economic situation in Europe," she said.
Gas reserves in European underground storage facilities amount to 64.5% max comparing to 72.2% last year. Gazprom actively takes gas out of its storage facilities in Europe to provide for its customers. Early estimations predict Russian gas export will rise almost 5% this year and promises pumping spring and summer seasons.
Gazprom exported around 238 billion cubic meters of natural gas worldwide last year. The vast majority of it was pumped to Europe. The company supplies a quarter of the 27-country European Union's gas needs, some 124 billion cubic meters, according to Eurostat, the EU's official data service. Europe is still heavily dependent on Russian supplies and will remain so for decades to come, because there is simply no alternative available at the moment, said Sergey Pikin, director of the Fund of energy development as quoted by Vzglyad daily.
"There are lots of projects that potentially can give Europe alternative suppliers but those are only projects," Pikin said. "A Qatari liquefied natural gas and coal, which can replace gas, is the only real alternative. "