A television viewer in the UK thought he noticed something odd flash across the screen last evening, and lucky for us, his DVR was running and he was able to
post the strange capture to a forum
. After a bit of back and forth rewinding, he managed to pause it at just the right second, presenting us with what he believes is a "very weird subliminal message".
The flash, which was broadcast on Comedy Central during a commercial break for the
Mr. Bean
episode "Goodnight, Mr. Bean", contains a huge block of text impossible to read unless paused, with several of the words highlighted as though important. Even weirder, is that it seems to be an ode to
financially troubled record store HMV
. The caps locked text reads about the "shared experience" of visiting the record store with your "tribe", and ends with the question of whether or not one can "fight progress".
The highlighted words are VOICE, MEMORIES, COLLECTION, JOY, EXPERIENCE, and PROGRESS.
You can view the capture below, or read our transcription further down the page: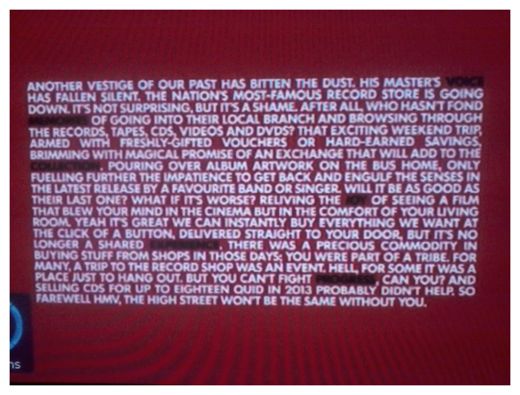 The transcription is as follows:
ANOTHER VESTIGE OF OUR PAST HAS BITTEN THE DUST. HIS MASTER'S VOICE HAS FALLEN SILENT. THE NATION'S MOST-FAMOUS RECORD STORE IS GOING DOWN. IT'S NOT SURPRISING, BUT IT'S A SHAME. AFTER ALL, WHO HASN'T FOND MEMORIES OF GOING INTO THEIR LOCAL BRANCH AND BROWSING THROUGH THE RECORDS, TAPES, CDS, VIDEOS AND DVDS? THAT EXCITING WEEKEND TRIP, BRIMMING WITH MAGICAL PROMISE OF AN EXCHANGE THAT WILL ADD TO THE COLLECTION. POURING OVER ALBUM ARTWORK ON THE BUS HOME, ONLY FUELLING FURTHER IMPATIENCE TO GET BACK AND ENGULF THE SENSES IN THE LATEST RELEASE BY A FAVOURITE BAND OR SINGER. WILL IT BE AS GOOD AS THEIR LAST ONE? WHAT IT IT'S WORSE? RELIVING THE JOY OF SEEING A FILM THAT BLEW YOUR MIND IN THE CINEMA BUT IN THE COMFORT OF YOUR LIVING ROOM. YEAH IT'S GREAT WE CAN INSTANTLY BUY EVERYTHING WE CANT AT THE CLICK OF A BUTTON, DELIVERED STRAIGHT TO YOUR DOOR, BUT IT'S NO LONGER A SHARED EXPERIENCE. THERE WAS A PRECIOUS COMMODITY IN BUYING STUFF FROM SHOPS IN THOSE DAYS; YOU WERE PART OF A TRIBE. FOR MANY, A TRIP TO THE RECORD SHOP WAS AN EVENT. HELL, FOR SOME IT WAS A PLACE TO JUST HANG OUT. BUT YOU CAN'T FIGHT PROGRESS, CAN YOU? AND SELLING CDS FOR UP TO EIGHTEEN QUID IN 2013 PROBABLY DIDN'T HELP. SO FAREWELL HMV, THE HIGH STREET WON'T BE THE SAME WITHOUT YOU.
Very weird indeed.
In a forum thread where the find was posted, some users wagered the bits could be part of
a modern day "numbers station"
, a sort of updated version of the radio signals used by spies to relay information to those who knew how to decipher it. Then again, there are others who believe it it's a message urging viewers to sacrifice Rowin Atkinson. Regardless of whether it's meant for 007 or the cult we all unknowingly belong to,
it appears that this isn't the first time these strange messages have popped up on the UK's Comedy Central
.
Do you have any idea what the messages mean? Have you seen any for yourself? We want to know!