Beginning this week, the Washington County Treasurer's Office will issue REAL ID drivers licenses. The move is part of the Department of Homeland Security's (DHS) effort to unify state-issued identification documents to combat terrorism. The 9/11 Commission noted, "For terrorists, travel documents are as important as weapons."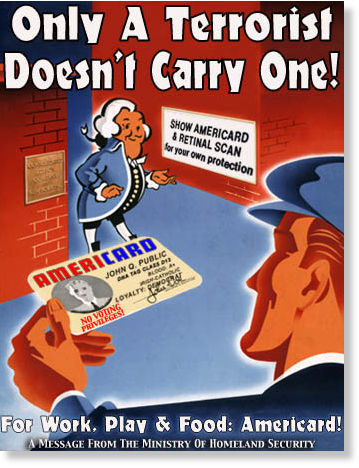 "Secure driver's licenses and identification documents are a vital component of a holistic national security strategy," states the DHS website. "Law enforcement must be able to rely on government-issued identification documents and know that the bearer of such a document is who he or she claims to be. Obtaining fraudulent identification documents presents an opportunity for terrorists to board airplanes, rent cars, open bank accounts, or conduct other activities without being detected."
Washington County residents will have the option of getting REAL IDS, though anyone getting a driver's license or identification card for the first time will be issued the Real I.D. Within two years REAL IDs will be required to fly on commercial airlines or enter certain federal buildings for anyone under 50. By Dec. 1, 2017, those older than 50 will need a REAL ID document to board a commercial aircraft or enter certain federal government buildings and nuclear power plants.
To get the new federally approved license, proof of legal presence in the county, a social security number and proof of residency will be needed. Examples of acceptable documents are:
- An Iowa voter registration card.
- A valid Iowa vehicle registration certificate.
- Valid insurance card or certificate of coverage (life, health, auto, homeowner's or renter's)
- Second valid insurance card or certificate of coverage (different than first)
- Utility hook up or bill (water, gas, electric, or garbage removal)
- Second utility hookup or bill (different than the first)
- Telephone hookup, service agreement or bill (landline or mobile)
- Statement from a financial institution (bank, credit union or other financial institution)
- Second statement from a financial institution (different from the first)
- Personal check or deposit slip issued by a financial institution (you may mark this "VOID")
- Credit, debit or charge card statement
- Iowa residential mortgage, lease or rental agreement (lease and rental agreements must include the landlord's name and contact information)
- Application for homestead tax credit for Iowa residential property
- Application for military tax credit for Iowa residential property
- Valid real estate tax statement or receipt for Iowa residential property
- Pay stub or statement from your employer
- Your current school enrollment papers for an Iowa public or private school
- Current school enrollment papers for a dependent child in an Iowa public or private school
- A federal, State of Iowa or local government document (such as a receipt, license, permit, assessment, professional or trade license, or other document)
- Second federal, State of Iowa or local government document (different than the first)
- An envelope, box, postcard or magazine that includes a postmark or stamped date
- Iowa DL or ID card that has not been expired for more than one year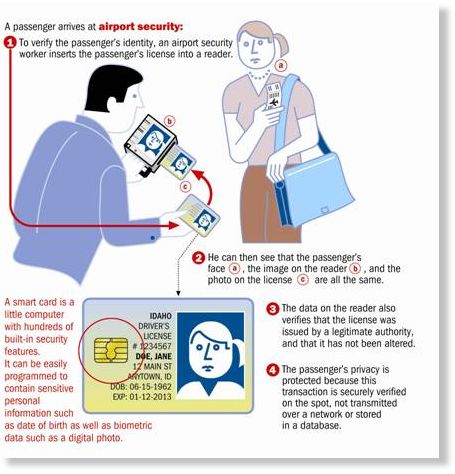 The residential address you supply must be a street or highway address. It may not be a post office box. In areas where a number and street name have not been assigned, an address convention used by the U.S. Postal Service is acceptable. (You may use a post office box as your mailing address.)
Iowa is one of 13 states that so far have met the stricter federal standards for issuing REAL IDs
. Because Iowa already produces cards that meet the REAL ID Act's security standards, the only marked difference will be a gold star in the upper right hand corner.
The states that have not yet qualified for the new IDs have been given deferments that will allow their residents to continue to board commercial aircraft and enter federal buildings using their state-issued IDs.
The DHS said it will work with states and other stakeholders
to develop a schedule for phased enforcement of the law
.
The Iowa website dealing with the new ID, states," Contrary to a common myth, the REAL ID Act does not establish a national database of driver and identification information. The information applicants present to the Iowa DOT is held securely by the department; it is not entered into a national database.
Another untrue myth is that the REAL ID-marked DL and ID cards contain an electronic chip that allows movements of individuals to be tracked. There is no such chip/device in cards issued by the State of Iowa. Some U.S. border states offer an enhanced DL that includes passive vicinity radio frequency identification embedded in the card that meets federal requirements and facilitates rapid identification checks at the border. However, that technology is not required by the REAL ID Act and is not used in cards issued by Iowa. Iowa's DLs and ID cards do have the required bar code printed on the back; that code requires manual scanning and only conveys the information appearing on the face of the DL or ID card, without the photo.