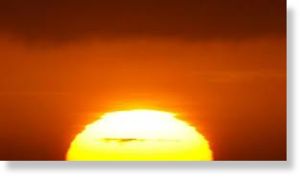 Sydney endured its hottest ever day on Friday, with records smashed across the city and thousands of people suffering from the heat. The mercury topped 45.8 at Sydney's Observatory Hill at 2.55pm, breaking the previous record set in 1939 by half a degree. The city's highest temperature was a scorching 46.5 degrees (115.7°F), recorded in Penrith at 2.15pm, while Camden, Richmond and Sydney Airport all reached 46.4 degrees. More than 220 people had been treated for heat exposure or fainting by late afternoon, the Ambulance Service of NSW said.
The heatwave also stranded thousands of commuters, with dozens of trains delayed as steel wires buckled and a hose used to run a key signaling system melted. On the central coast, the heat caused an overhead wire to buckle onto a train at about 1.30pm, trapping about 250 passengers for half an hour. The monorail ground to a halt, spitting sparks that started a soon-extinguished grass fire next to Darling Harbour. More serious fires raged across NSW and Victoria, including about a dozen blazes that burned out of control in coastal regions of NSW from the Hunter Valley to the south coast. In Victoria a man's body was found in a burnt-out car in the town of Seaton in Gippsland. The victim, who is yet to be identified, was the first victim of the bushfires this summer. The conditions in NSW were hellish, firefighters said. "This has made for very difficult conditions and there are a lot of very active fires.
There has not been the cloud cover we expected," said the commissioner of the NSW Rural Fire Service, Shane Fitzsimmons. As temperatures cooled and the southerly approached, lightning strikes sparked multiple small fires across the state, adding further stress to the firefighting effort. By nightfall huge fires were still burning near Cessnock, Coonabarabran, Young and around Bega, but there were no reports of properties destroyed. In Victoria one house was incinerated by a bushfire about 200 kilometres east of Melbourne, which had doubled in size to cover more than 45,000 hectares. Even as thousands of front-line personnel battled the flames, the nation's peak emergency body - the Australasian Fire and Emergency Service Authorities Council - lodged a Senate inquiry submission warning of worse to come.
The capacity of fire and emergency services to respond to major natural disasters will need to be increased if extreme weather events become more frequent and intense due to climate change, its submission to an inquiry into extreme weather events said. A bigger "surge capacity" was needed to deal with extreme events, such as those seen in the past two weeks. The council's manager of operations, Paul Considine, said it had sought scientific advice in 2009 on the impacts of climate change on extreme weather. "We've been careful. We are not climate science experts," Mr Considine said. "Our position is the science is there, we have accepted the science that has been presented to us, and if it is correct we can predict these certain results. At the Big Day Out music festival at Olympic Park, some people were treated for heat stress, while others partied under public showers. "We're almost dying it's so hot," said Brittany Markey, 18, from Newcastle. "We've been standing under all of the showers and drinking water but it's so expensive - $4.50 a bottle. When it rained for just a bit, that was awesome but otherwise waiting more than two hours without going under the showers is death. "The water showers and the sprays are keeping us cool. Without them, the heatstroke would definitely be coming on." -
SMH