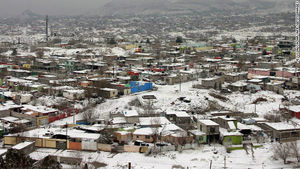 This is from an article that appeared in Vanguardia this morning in an inconspicuous spot in the first section. I guess we weren't supposed to see it.
Chihuahua - The arrival of cold front 21 generated temperatures of 13 degrees celsius below zero, as well as road accidents in various municipalities reported by the meteorologist of The State Civil Protection Department (UEPC), Salvador Echevarria Campos.

The UEPC meteorologist reported that 63 of the 67 state municipalities woke up to temperatures below zero degrees celsius, of these, 20 registered between zero and minus six degrees, with the forecast saying that these conditions will continue the same.

Madera and Casas Grandes are the locations with the lowest temperature registering minus 13 and minus 11 degrees, followed by Matachi and Villa Ahumada with minus 10 degrees and as well Temosachic and Bocoyna with minus 9.

Campos emphasizes that the Capital woke up to minus 6 degrees and explains also that the frost will continue, due to a mass of cold air that arrived with Cold Front number 21, which is at the border of Chihuahuan Territory but closures and havoc prevail.

Meanwhile, in the State of Sonora, temperatures registered 14 degrees below zero in the last few hours (and Sonora) has been affected by the most extensive cold wave in the last 42 years.

Caption on photo: 'Suffering. The streets of Nogales, Sonora woke up covered with ice.'
Thanks to Alan Stover for this info, and for the translation.