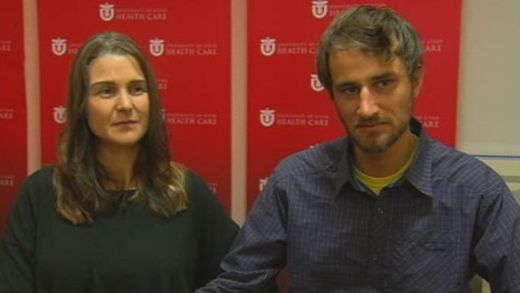 A 43-year-old backcountry skier revived after she was buried in an avalanche is now in fair condition at University of Utah Hospital, hospital officials said.
On Saturday, Jan. 12, Elizabeth Malloy and a male friend were in Millcreek Canyon, Utah, a popular spot near Salt Lake City with no designated ski resorts but well-known for snowshoeing and cross country skiing.
At approximately 5 p.m., police believe Malloy and her friend triggered an avalanche while backcountry skiing.
"When the avalanche happened, she was completely buried," Lt. Justin Hoyal of the Utah Unified Police of Greater Salt Lake told ABC News. "The male party that she was with had the necessary equipment. He was able to locate her and get her out."
Once the male dug out Malloy from the snow, he noticed she was unconscious, Hoyal said.
"She was not breathing," Hoyal added. "He was able to resuscitate her to where she was conscious and speaking. There is no cell service in that canyon and, fortunately, they were in an area where he was able to move and get a signal and call for help."
When the rescue team located the two via helicopter at approximately 8 p.m., they were 1.7 miles from the trailhead and approximately 9,000 feet in elevation on the slope. At that point, both were air transported to the bottom of the canyon and taken to a University of Utah Hospital in Salt Lake City. Malloy's condition initially was classified as serious, but has been upgraded to fair, hospital officials said.
According to the Utah Avalanche Center, the avalanche measured 800 feet vertically and 700 feet in width.
"Seven hundred feet wide is over two football fields, and I would think that [in] anything that is that wide and several feet deep you would feel like a toothpick in a hurricane," said Craig Gordon of the Utah Avalanche Center. "That is a large piece of snow. The lady that was caught in that avalanche is lucky to be alive."
In backcountry skiing areas that are not controlled, Hoyal said, there is a high risk of an avalanche.
"One of the big messages here is people don't have necessary avalanche equipment and can't get them out," Hoyal said. "It takes us time to get up to the backcountry and get to them. In this particular incident, this gentleman was prepared, had the necessary equipment and, essentially, saved her life."
When skiing in undesignated areas, people should be prepared and check with the Utah Avalanche Center before heading out, Hoyal said.