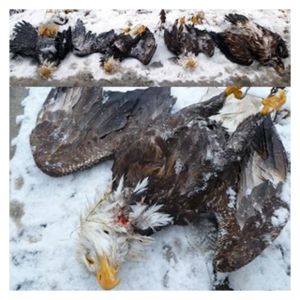 Granite Falls, Wash. - Four dead eagles discovered floating in a lake Jan. 9 outside Granite Falls, Wash. appeared to be the victims of a poacher, the Washington Department of Fish and Wildlife (WDFW) Police said.
The four eagles were retrieved by WDFW Police on Jan. 10. Initial observations show at least three of the birds were killed by a small caliber rifle. All of the birds appeared to be perched on trees before they fell into the lake.
Bald eagles are protected under state and federal laws. Killing an eagle is a Class A misdemeanor, and carries a maximum penalty of $1,000 and 90 days in jail.
WDFW, the Humane Society and other groups offered a $3,750 cash reward for information leading to the arrest and conviction of the persons or people responsible for killing the eagles. Anyone with information related to the crime can call the WDFW tip line at (877) 933-9847.