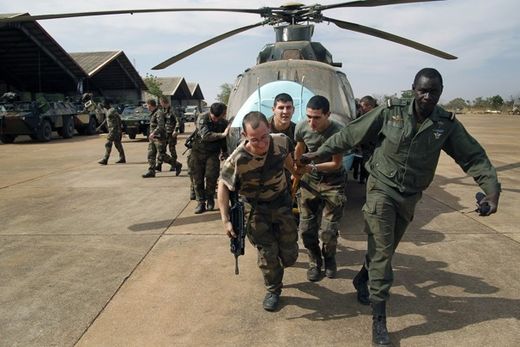 Islamist guerrillas seized a number of hostages, including Americans, in a brazen attack early Wednesday on a remote gas-production facility in Algeria, and the United States vowed to take all necessary steps to deal with what it called a "terrorist act."
Algeria's official news agency said two people were killed, including a British national, and six were wounded, two of them foreigners, in the attack by what authorities described as a homegrown Algerian terrorist group. There were conflicting accounts of the number of people taken hostage. The agency, Algerie Presse Service, said Algerian troops quickly surrounded the site.
In Rome, Defense Secretary Leon E. Panetta said U.S. officials believe that Americans are among the hostages in Algeria but that they are still trying to determine how many.
"By all indications, this is a terrorist act," he told reporters after meeting with Italian leaders Wednesday as part of a week-long European trip. "It is a very serious matter when Americans are taken hostage along with others.... I want to assure the American people that the United States will take all necessary and proper steps that are required to deal with this situation."
Panetta said it remained unclear whether the hostage-takers are connected to al-Qaeda-affiliated groups that France is fighting in northern Mali.
"I do know that terrorists are terrorists, and terrorists take these kinds of actions," he added. "We've witnessed their behavior in a number of occasions where they have total disregard for innocent men and women. This appears to be that kind of situation."
Al-Qaeda in the Islamic Maghreb claimed responsibility for the attack and said 41 hostages were seized, seven of them Americans.
However, Algerie Presse Service (APS) said "a little more than 20 foreign nationals" were captured. It said the hostages were from Norway, Britain, the United States, France and Japan. The captors released Algerian workers in small groups, the agency said.
The assailants arrived in three vehicles and first attacked a bus that was taking foreign workers from the gas-production facility to a local airport, APS said. One foreigner was killed in that attack, and the militants then took over part of the facility and seized hostages, it said.
Algerian Interior Minister Daho Ould Kablia said the attackers were Algerian "terrorists" and vowed that authorities would not negotiate with them.
Al-Qaeda in the Islamic Maghreb said the attack was in retaliation for Algeria's decision to allow France to use its airspace to send warplanes to neighboring Mali, where French forces have been conducting airstrikes and support operations since last week to aid Malian troops in their battle against Islamist insurgents.
"Algeria's participation in the war on the side of France betrays the blood of the Algerian martyrs who fell in the fight against the French occupation," a spokesman for the Masked Brigade, an arm of al-Qaeda in the Islamic Maghreb, told Mauritania's Nouakchott News Agency.
The Obama administration is considering significant military backing for France's drive in Mali, short of sending American combat forces to the volatile West African nation. The United States is already providing surveillance and other intelligence help to France and may soon offer military support such as transport or refueling planes, according to U.S. officials.
Secretary of State Hillary Rodham Clinton spoke about the situation to the U.S. ambassador in Algeria and to the Algerian prime minister, State Department spokeswoman Victoria Nuland said. Nuland refused to confirm claims by the al-Qaeda group that it was holding seven American hostages.
"The best information we have at this time is that U.S. citizens are among the hostages," Nuland said. "In order to protect their safety, I'm not going to get into numbers. I'm not going to get into names."
Panetta said he was "confident" that the United States would ultimately decide to provide military assistance to France, but that the Obama administration first needed to conduct a careful legal review to ensure that it has the authority to become involved in the conflict.
"One thing I've learned is every time I turn around, I face a group of lawyers," Panetta told reporters. "Lawyers basically have to review these issues to make sure they feel comfortable that we have the legal basis for what we're being requested to do. And I understand the need for that."
After the Sept. 11, 2001, attacks on the United States, Congress approved an open-ended use of military force against al-Qaeda and its allies. Since then, the George W. Bush and Obama administrations have used that as the authority to take military action against far-flung al-Qaeda affiliates, including networks in Yemen and Somalia.
So far, however, the Obama administration has not explicitly taken that step against al-Qaeda in the Islamic Maghreb (AQIM), with some U.S. officials arguing that the network is isolated in remote parts of Africa and does not represent a direct or imminent threat to American interests.
While Panetta called the Algerian hostage-taking "a terrorist act," he refrained from directly blaming AQIM for the attack and said he did not "know whether there is any relationship to the situation in Mali."
At the same time, he flatly declared that the insurgency in Mali was led by AQIM and suggested that there was a legal basis for the United States to take action against the group.
"They are a threat," he said. "They are a threat to our country. They're a threat to the world. Wherever they locate and try to establish a base of operations, I think that constitutes a threat that all of us have to be concerned with."
"It is for that reason that we have always been concerned about their presence in Mali because they will use it as a base of operations to do exactly what happened in Algeria. That's the kind of things that terrorists do, and that's what we're concerned about."
The Obama administration's deliberations over whether and how to become involved in Mali contrast with other NATO allies in Europe - such as Denmark, Britain, Germany and Italy - that have been quicker to promise military assistance to France.
In Rome, an Italian journalist bluntly asked Panetta whether he saw the conflict in Mali as "France's war," with the United States and others relegated to providing backup from the sidelines.
"This is an international effort," Panetta replied, noting that the United Nations and many African countries have endorsed a multinational intervention in Mali, though details remain unresolved. "I don't think that there's any questions that all of us ... concur that we ought to provide whatever assistance we can to assist the French."
In Mali, meanwhile, French troops in armored vehicles and machine-gun-mounted pickups were moving north toward the beleaguered town of Diabaly, setting the stage for what seemed likely to be their first major engagement on the ground since President Francois Hollande ordered the military intervention there six days ago.
The troop movements were recorded by journalists on the scene. Some reports said French special forces advisers were already in Diabaly, battling alongside Malian soldiers.
An all-out attack on the town by French ground forces would sharply raise the risk of casualties and of criticism of the operation within France, where leaders across the political spectrum so far have expressed support. Fighting would probably have to proceed at close quarters, house to house, robbing the French forces of the overwhelming technological advantage they have demonstrated in carrying out airstrikes while attempting to buck up the disorganized Malian army.
It would be a dramatic change from the 2011 Libya intervention, in which no French casualties were reported despite months of bombing and the presence on the ground of an unknown number of special forces.
In what could be a taste of things to come, former French president Valery Giscard d'Estaing warned Hollande on Wednesday against letting the French intervention evolve into a "neocolonialist" type of action. "France should limit itself strictly to its logistical support to African forces," he told the newspaper Le Monde.
Details of the attack on the gas facility in eastern Algeria remained murky hours afterward. Armed assailants burst into the facility at In Amenas, nearly 1,000 miles southeast of Algiers, the capital, according to the British Foreign Ministry and the BP oil company. The remote facility, on the border with Libya, is operated by BP, Norway's Statoil and Sonatrach, the Algerian state oil company.
BP said a group of "unidentified armed people" attacked and occupied the facility at 5 a.m. As of late afternoon, they were still occupying the site, BP said. The company said it had not confirmed the "identity or intention of the people occupying the site."
"We do not yet have confirmed information on the status of the personnel at the site but believe some are being held by the occupiers," the company said in a statement issued in London.
Reports quoting Algerian security sources in the region varied considerably; some said that a British security guard was killed and that several Japanese and other Europeans were taken hostage. The Irish deputy prime minister, Eamon Gilmore, demanded the release of an Irish hostage, suggesting he was among those being held.
Since the French military intervention in Mali began Friday, al-Qaeda in the Islamic Maghreb and other Islamist militias have issued a number of threats, saying Hollande would be made to pay for his actions. Al-Qaeda in the Islamic Maghreb was started in Algeria in the late 1990s. It has turned Mali's vast northern stretches into a haven for guerrillas and terrorist organizations.