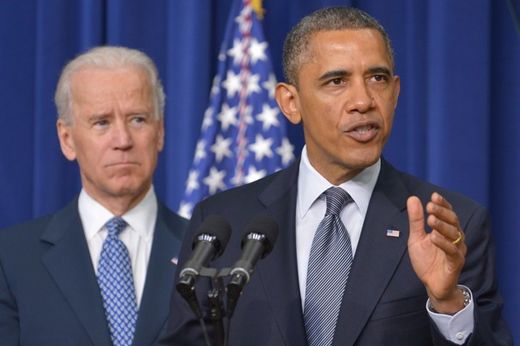 President Obama on Wednesday formally proposed the most expansive gun-control policies in generations and initiated 23 separate executive actions aimed at curbing what he called "the epidemic of gun violence in this country."
While no legislation can prevent every tragedy, he said in announcing the proposals, "if there is even one thing we can do to reduce this violence, if there's even one life that can be saved, we've got an obligation to try."
Obama spoke in a White House ceremony to formally unveil the proposals and to sign executive orders and paperwork initiating immediate administrative actions, including steps to strengthen the existing background-check system to keep guns out of the hands of potentially dangerous people as well as to improve mental health and school safety programs.
The president also called on Congress to swiftly pass legislation to ban assault weapons and high-capacity ammunition magazines for civilian use and to require universal background checks for all gun buyers. Obama's proposals include mental health and school safety measures, as well as a tough new crackdown on gun trafficking.
Taken together, the gun-control proposals rank among Obama's most ambitious legislative projects, along with his fiscal stimulus package, his health-care law and Wall Street regulations - all achieved when Democrats controlled both houses of Congress. Administration officials said Wednesday that the proposals do not represent specific legislation. But they said that in the coming weeks, the White House would be working with members of a divided Congress to develop bills to implement as much of the package as possible.
Speaking before Obama, Vice President Biden said "we have a moral obligation" to diminish the prospect that tragedies such as last month's massacre in an elementary school in Connecticut could happen again.
"I have no illusions about what we're up against," Biden said. But he added: "The world has changed, and it's demanding action."
Senate Judiciary Committee Chairman Patrick J. Leahy (D-Vt.) said his panel would begin examining gun-control measures in two weeks. "In our hearings, we will ensure an open forum for a constructive discussion about how we can better protect our communities from mass shootings, while respecting the fundamental right to bear arms recognized by the Supreme Court," he said in a statement. "As President Obama has made clear, no single step can end this kind of violence. But the fact that we cannot do everything that could help should not paralyze us from doing anything that can help."
Administration officials said Obama's agenda is comprehensive and is designed to curb not only mass shootings with semiautomatic weapons but the thousands of deaths from regular handguns that abound in America's cities.
In an emotional ceremony one month and two days after the shooting that killed 20 small children and six adults at Sandy Hook Elementary School in Newtown, Conn., Obama was flanked by children who wrote him letters in the days after the massacre, pleading with him to do something to curb gun violence.
Obama began by reading excerpts from the children's letters.
"This is our first task as a society," he said, "keeping our children safe. This is how we will be judged, and their voices should compel us to change."

Comment: Apparently children from other countries don't count to President Obama.


In the month since the shooting at Sandy Hook Elementary, Obama said, "more than 900 of our fellow Americans have reportedly died at the end of a gun... And every day we wait the number will keep growing."
He vowed that "in the days ahead, I intend to use whatever weight this office holds" to make his proposals a reality.
As important as his 23 executive actions are, "they are in no way a substitute for action from members of Congress," Obama said. "To make a real and lasting difference, Congress, too, must act, and Congress must act soon."
Calling for congressional restoration of an assault weapons ban and a 10-round limit for ammunition clips, Obama cited last year's shooting at a movie theater in Aurora, Colo., in which a gunman armed with an assault rifle shot 70 people, 12 of them fatally, in a matter of minutes.
"Weapons designed for the theater of war have no place in a movie theater," Obama said. He noted that former president Ronald Reagan, "one of the staunchest defenders of the Second Amendment," wrote to Congress in 1994 to urge support for the assault weapons ban.
Despite what he said was broad public support for his proposal, getting his legislative proposals through Congress "will be difficult," Obama said.
"There will be pundits and politicians and special interest lobbyists publicly warning of a tyrannical all-out assault on liberty, not because that's true, but because they want to gin up fear or higher ratings or revenue for themselves," he predicted. "And behind the scenes, they'll do everything they can to block any common-sense reform and make sure nothing changes whatsoever."
Obama added: "The only way we will be able to change is if their audience, their constituents, their membership says this time must be different, that this time we must do something to protect our communities and our kids. I will put everything I've got into this ... but I tell you, the only way we can change is if the American people demand it."
He urged Americans to put pressure on their members of Congress and "get them on record" on whether they support universal background checks on gun buyers and renewal of the bans on assault weapons and high-capacity magazines.
"And if they say no, ask them why not," Obama said. "Ask them what's more important: Doing whatever it takes to get an A grade from the gun lobby that funds their campaigns, or giving parents some piece of mind when they drop their child off to first grade?"
One of the administration's top priorities is strengthening background checks by closing loopholes in existing law.
"Too often, irresponsible and dangerous individuals have been able to easily get their hands on firearms," the White House said in a fact sheet describing Obama's proposals. "We must strengthen our efforts to keep guns from falling into the wrong hands." It said an estimated 40 percent of all gun sales are made by private sellers who are exempt from a federal requirement to check the buyer's background.
"We should have a system where everybody has to get a background check," said a senior administration official. "The best analogy that experts talked to us about in our meetings is that it wouldn't make any sense at the airports to have two lanes - one where if you go to a licensed dealer you go through the metal detector and if you go to a private sale there's no metal detector at all. This is an attempt to get everybody through the system."
Obama's plan also includes reinstating and strengthening the assault weapons ban, restoring a 10-round limit on ammunition magazines, getting rid of armor-piercing bullets, ending a freeze on research into gun violence and providing additional tools to prevent and prosecute gun crime. It calls on Congress to pass a $4 billion proposal to help communities keep 15,000 police officers on the streets, as well as new gun trafficking legislation that would "impose serious penalties on those who help get guns into the hands of criminals," according to the White House fact sheet.
The plan also aims to make schools safer, giving communities the opportunity to hire up to 1,000 school resource officers and school counselors.
Among the steps Obama is taking by executive action is the nomination of a new director of the Bureau of Alcohol, Tobacco, Firearms and Explosives (ATF): Todd Jones, currently the agency's acting director.
Senior administration officials insisted to reporters on a conference call Wednesday morning that Obama was committed to using his political capital to press for "aggressive action" by Congress.
"I think that there's no question that this is an area where it's always a tough battle," one official said. "It took a lot of work" to pass the 1994 law that banned assault weapons and the 1993 legislation, known as the Brady bill, that instituted federal background checks for gun purchases," the official said. "But the American people are overwhelmingly supportive of these steps.... So we see a real opportunity to get something done here."
Obama's proposals are the product of a month-long, interagency task force led by Vice President Biden to study comprehensively the nation's gun violence. The group, which included several Cabinet members, held 22 meetings with representatives of more than 220 organizations - including those representing law enforcement and faith leaders, activists against gun violence, gun rights advocates, sportsmen and members of the entertainment and video game industries.
The task force group also spoke with more than 30 elected officials, Democrats and Republicans, who hold local, state and federal offices.
Among the executive actions Obama announced Wednesday were presidential memorandums requiring federal agencies to make relevant data available to the background-check system, ordering federal law enforcement to trace guns recovered in criminal investigations and directing the Centers for Disease Control and Prevention to research the causes and prevention of gun violence.
The list also included a statement clarifying that the Affordable Care Act, his signature health-care initiative, "does not prohibit doctors asking their patients about guns in their homes."
Obama said further that the administration would provide law enforcement, first responders and school officials with "proper training for active shooter situations."
At an annual trade show in Las Vegas, the National Rifle Association on Wednesday cast its opposition to Obama's plans as "the fight of the century."
"I warned you this day was coming, and now it's here," Wayne LaPierre, the NRA's fiery executive vice president, wrote in a fund-raising letter circulated at the 35th annual Shooting, Hunting, Outdoor Trade Show and Conference, known as the SHOT show. "It's not about protecting your children. It's not about stopping crime. It's about banning your guns ... PERIOD!"
The NRA issued the letter a day after posting online a provocative video ad that labeled Obama an "elitist hypocrite" for letting armed guards protect his own school-aged children while expressing skepticism about an NRA proposal to put armed security in schools.
The White House on Wednesday blasted the video. "Most Americans agree that a president's children should not be used as pawns in a political fight," press secretary Jay Carney said. "But to go so far as to make the safety of the president's children the subject of an attack ad is repugnant and cowardly."
NRA spokesman Andrew Arulanandam told The
Washington Post
that the ad was not directed at Malia and Sasha Obama.