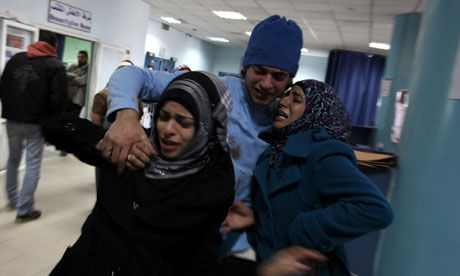 Samir Awad, 17, shot dead at separation barrier near Budrus where IDF says group of youths were trying to enter Israel.
A teenage boy was killed by Israeli soldiers on the separation barrier close to the West Bank village of Budrus yesterday, shot from behind as he was running away, according to Palestinian accounts.
Samir Awad, 17, was among a group of boys who had just completed an exam on the last day of school before a midterm break when they approached the barrier, reports said. The Israeli Defence Forces said the youths were "attempting to infiltrate into Israel", and its soldiers "responded immediately". It confirmed live fire was used.
According to villagers, Samir was grabbed by soldiers who were concealed in a trench. He broke free and was running away when a soldier or soldiers opened fire. He was hit by three or four bullets, in his head, torso and leg.
Ayed Morrar, a member of the village popular resistance committee, said: "
They shot him in cold blood, they shot him in the back. He wasn't threatening them."
He said there had been no stone-throwing at the time of the shooting.
Samir, one of 15 siblings, was buried in the village cemetery overlooking the separation barrier on Tuesday afternoon. A large group of men and boys, some carrying Fatah and Hamas flags, accompanied his shrouded body to the grave.
His brother Jibril, 23, wearing a blood-soaked T-shirt, said he had rushed to help Samir as soon as he heard about the shooting. "The soldiers prevented me from getting near him at first," he said. "There was a soldier on top of him."
He said his family had lost more than five acres of land and 3,000 olive trees when the separation barrier was constructed on Budrus land. His mother had been injured in protests against the route of the barrier, and he had been jailed three times for taking part in popular resistance actions. "All our family has suffered from the wall," he said.
Budrus was the first West Bank village to organise regular weekly protests against the barrier and eventually succeeded in getting its route changed. An eponymous documentary film about the village's struggle was released in 2009.
After Samir's funeral, soldiers fired teargas at village youths who gathered near the barrier. Mouin Awad said Samir's death could trigger further confrontations between villagers and the IDF. "We will throw rocks and protest. What else can we do?"
The IDF said an investigation into "reports regarding a wounded Palestinian" was under way.
On Monday a 21-year-old Gaza man died after being shot in the head by Israeli forces, according to Palestinian officials. The IDF denied being involved.
On Saturday a 21-year-old Palestinian was shot dead by Israeli troops while trying to cross the barrier near the southern West Bank town of Dura. On Friday a 22-year-old man was killed and another injured by Israeli forces in northern Gaza, according to reports.
Meanwhile, the Israeli military said it had discovered a shaft leading to a tunnel dug from Gaza. The opening was around 100 metres inside Israeli territory and was intended "to execute terror attacks against Israeli civilians and IDF soldiers on Israeli territory", the IDF said.