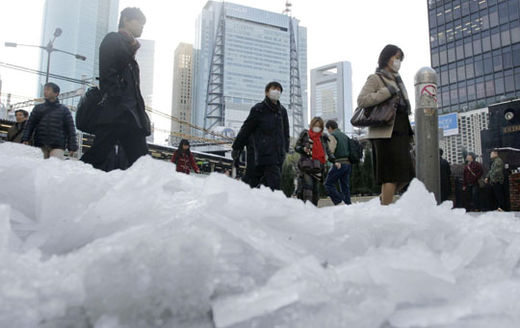 The heavy snow that blanketed eastern Japan over the holiday weekend left one man dead and injured more than 900 others, while Tokyo commuters dealt with slippery streets as they returned to work Tuesday.
A low-pressure system, dubbed a "bomb cyclone" by the local media, dumped 8 cm of snow in nine hours, the heaviest snowfall in the Tokyo region since January 2006, the Meteorological Agency said.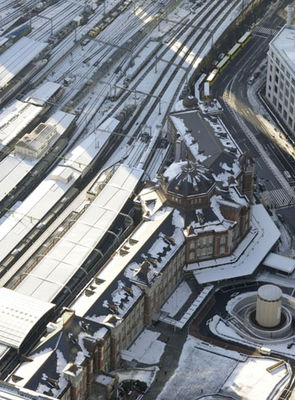 Eiji Tanaka, 71, in Shiojiri, Nagano Prefecture, died after falling into a drainage ditch as he cleared snow around his house and drowned, a fire department spokesman said.
NHK said at least 891 injuries were recorded in Tokyo and the area around it, many involving elderly people who slipped on snow-covered streets or motorists involved in accidents.
As of 7 a.m. Tuesday, Yokohama registered 7 cm of snow, while the Otemachi district in central Tokyo had 6 cm.
Traffic networks around the Tokyo metropolitan area continued to be disrupted Tuesday morning. Rail services were largely back to normal, but many domestic flights were canceled and some sections of key expressways were impassible.
At Narita International Airport, about 3,400 travelers were forced to spend Monday night in a terminal after snow caused airlines to cancel 71 flights.
Airport officials distributed sleeping bags, water and crackers to the stranded travelers. Normal flight operations at Narita resumed Tuesday, except for a few delays.
At Tokyo's Haneda airport, two of the four runways were temporarily closed Monday while snow was removed.
On Tuesday, Japan Airlines Co. and All Nippon Airways Co. canceled more than 30 flights, mainly in the morning.
The Japan Road Traffic Information Center said some parts of expressways around the Tokyo area, including the Tohoku, Joban as well as metropolitan expressways, continued to be closed to traffic Tuesday morning.
Meanwhile, 49 schools and kindergartens closed in Tokyo, Chiba, Kanagawa and Saitama. The snow delayed mail and parcel deliveries as well.
"I left home early because I was worried that I might not be able to catch my shinkansen train," said Norimasa Goto, a 46-year-old Chiba resident who was heading from Tokyo to Osaka on business. "I walked 30 minutes to a nearby railway station from home because it was scary to drive on an icy road."
At Tokyo Skytree in Sumida Ward, employees were busy clearing snow and taking steps to prevent snow left on the tower from falling and hitting pedestrians.
Because Monday fell on Coming of Age Day, many women wearing kimono who attended ceremonies had difficulty walking in the snow.
Around 26,000 households lost power at least temporarily in Tokyo and five nearby prefectures as power cables were severed under the weight of snow.
Source: AFP-Jiji, Kyodo, AP