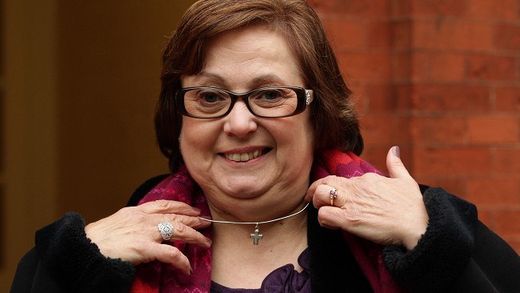 A British Airways employee who was forced out of her job for wearing a cross has said Christian rights were "vindicated" in the UK after she won a landmark legal battle.
Nadia Eweida, 60, took the airline to a tribunal when she was sent home from work for displaying a small silver crucifix on a chain around her neck. Her claims of religious discrimination were rejected in Britain but judges in Strasbourg found in her favour.
A European Court of Human Rights (ECHR) ruling concluded there had been a violation of Miss Eweida's right to demonstrate her faith which caused her "considerable anxiety, frustration and distress". They rejected similar claims made by another three Christians.
Nurse Shirley Chaplin, marriage counsellor Gary McFarlane and registrar Lillian Ladele lost their cases in the same ruling. They can now appeal against the decision at the Grand Chamber of the Court.
Miss Eweida left her job in airport check-in in September 2006 but returned to work in customer services at Heathrow's Terminal 5 in February 2007, after BA changed its uniform policy on visible items of jewellery. She said she was "jumping for joy" following the ECHR's decision but expressed disappointment for the other three applicants.
Speaking outside her lawyer's chambers in central London, she said: "I'm very happy and very happy and very pleased that Christian rights have been vindicated in the UK and Europe. I'm very pleased that after all this time the European court has specifically recognised, in paragraph 114 in the judgment, that I have suffered anxiety, frustration and distress. I'm disappointed on behalf of the other three applicants but I fully support them in their asking for a referral for their cases to be heard in the Grand Chamber, and I wish them every success in the future to win. I was very selfish initially when I heard the verdict because I was jumping for joy and saying 'thank you Jesus'."
Miss Eweida, from Twickenham, south-west London, added: "It's a vindication that Christians have a right to express their faith on par with other colleagues at work visibly and not be ashamed of their faith."
The lengthy judgment found a fair balance was not struck between Miss Eweida's desire to demonstrate her religious belief and BA's wish to "project a certain corporate image". It found the airline's aim was "undoubtedly legitimate" but said domestic courts accorded it "too much weight". It concluded: "Ms Eweida's cross was discreet and cannot have detracted from her professional appearance. There was no evidence that the wearing of other, previously authorised, items of religious clothing, such as turbans and hijabs, by other employees had any negative impact on British Airways' brand or image."
British Airways said the airline was not a party to the legal action which was pursued against the UK Government. A spokesman said: "Our own uniform policy was changed in 2007 to allow Miss Eweida and others to wear symbols of faith and she and other employees have been working under these arrangements for the last six years. Miss Eweida has worked continuously for British Airways for 13 years."
The court's ruling was warmly welcomed by Downing Street. "The Prime Minister is delighted that the principle of wearing religious symbols at work has been upheld," Mr Cameron's official spokesman said. "The Government's view is that the law as it stands strikes the right balance between the rights of employees and employers."