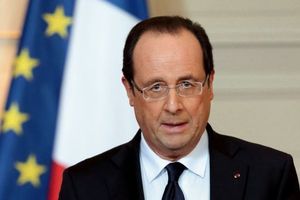 The US military is weighing support for French forces in Mali including surveillance drones, a US official said Friday, as Washington backed moves to deny safe haven to extremists in the country.
US commanders were looking at providing intelligence and aerial refueling tankers among a range of options, such as logistical backup and boosting intelligence sharing, which would involve surveillance drones, the official, who spoke on condition of anonymity, told AFP.
Backed by French air power, Mali on Friday unleashed an offensive against Islamist rebels who have seized control of the north of the West African country and are now threatening to push south.
Senior US officials held talks with their counterparts in the French capital and other allies on drawing up an action plan, the official said.
President Francois Hollande confirmed in Paris that French forces were supporting an attack aimed at repelling the Al-Qaeda-linked radicals who have triggered international alarm with moves towards the capital Bamako.
The United States said Friday it shared France's goal of denying the extremists safe haven in Mali.
"We are monitoring the situation closely," National Security Council spokesman Tommy Vietor told AFP.
"We have noted that the government of Mali has asked for support, and we share the French goal of denying terrorists a safe haven in the region."
Hollande gave no indication of the scale of French involvement, but said it would last "for as long as is necessary."
The American military has a network of air bases in Italy, Spain and elsewhere in the region that could provide refueling tankers and other assistance to the French.
Former colonial power France has warned that the Islamist rebels were seeking to transform the vast nation into a "terrorist state."
State Department spokesman Victoria Nuland meanwhile said Washington was "consulting very closely" with the French government on the fighting.
"Obviously we remain deeply concerned by the recent events in Mali. We echo the international community's condemnation of these recent aggressive acts."
Earlier Friday, French Defense Minister Jean-Yves Le Drian briefed his US counterpart Leon Panetta about the situation.