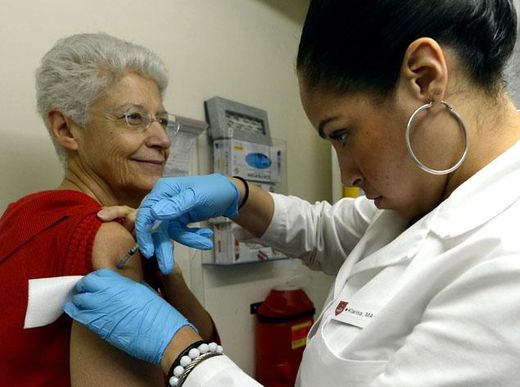 Gov. Andrew M. Cuomo has declared a state public health emergency in response to the severe flu season and has issued an executive order allowing pharmacists to give flu vaccines to those between six month and 18 years of age, in addition to those who are older.
The order suspends for the next 30 days the section of State Education Law that limits pharmacists to administering immunizations only to those ages 18 and older.
So far this season, 19,128 cases of influenza have been reported in New York, more than four times the total of 4,404 positive laboratory tests that were reported all of last the 2111-2012 season. As of Jan. 5, the New York state Department of Health received reports of 2,884 patients hospitalized with laboratory-confirmed influenza, compared to 1,169 total hospitalizations in 2011. To date, two children in New York State and eighteen children across the United States and have died as a result of this year's seasonal influenza.
"We are experiencing the worst flu season since at least 2009, and influenza activity in New York State is widespread, with cases reported in all 57 counties and all five boroughs of New York City," Cuomo said. "Therefore, I have directed my Administration, the State Health Department and others to marshal all needed resources to address this public health emergency and remove all barriers to ensure that all New Yorkers - children and adults alike - have access to critically needed flu vaccines."
New Yorkers can find a local vaccine provider by visiting http://flushot.healthmap.org/ and entering their zip code. New Yorkers without internet access can call 1-800-522-5006 or through TTY access at 1-800-655-1789 to find a nearby provider.
For additional information about influenza, including statewide surveillance, visit the
State Health Department website
.