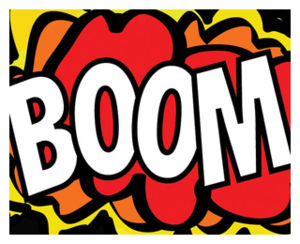 Evansville - One thing's for sure: Something keeps going boom during the night around the Evansville area.
But authorities have yet to determine what is responsible for the loud sounds.
Local residents, mostly on Evansville's East Side and in Warrick County including Boonville, started reporting the mysterious sounds late Monday night. Additional reports of similar noises were also logged Tuesday night.
Caleb Donahoo, 24, said he has heard the booms each night at his home, which is in the Lynch-Green River roads area, with Monday night definitely being the loudest.
"The first night, it was about 11:45-ish. That was the loudest one we've heard so far. I was asleep, and it woke me up. It rattled the windows and the house and everything," Donahoo said Wednesday evening.
The incidents have spawned much speculation on social media, with theories ranging from a blown power transformer to a meth explosion or a sonic boom from some sort of aircraft, but so far nothing has been conclusive about the sounds' origins.
Vectren Corp. has no record of any blown transformers in any of the areas where the sounds were reported either night, according to spokeswoman Chase Kelley, though she said several of the company's own employees had asked a supervisor if a blown transformer was a cause of any of the sounds.
Others speculated it could be a mine blast, but Evansville-based Vigo Coal, which operates in Boonville, said its permit prohibits blasting work from dusk to dawn.
Sherman Greer, director of the Evansville-Vanderburgh County Emergency Management Agency, said authorities from several agencies have investigated, but all of them have been dead ends.
"We checked with (Department of Homeland Security) in Indianapolis, we checked with the Indiana University Geological Survey, and they didn't have any specific evidence or anything like that," said Greer.
Though he said he has no idea what could have caused the booms, Greer said the phenomenon has certainly sparked conversation.
"We've been more or less listening to the chatter over the radios and what's going on Facebook and Twitter and everything else to see what other people are saying," he said.
Greer declined to offer any guesses of his own about the sounds' cause, saying he wouldn't want to "put fear in anybody or anything like that."
Other than thunder, a group of National Weather Service meteorologists at the Paduach, Ky., office couldn't offer any weather-related explanations for such an occurrence.
Donahoo simply hopes a source is located soon.
"Somebody out there knows. Now it's just who is going to step up and say 'Yeah, we know what's going on,' or 'Yeah, it's our fault.'"
One thing's for sure: Whatever caused the sounds is becoming a discussion topic that seems to be growing as the mystery remains unsolved.
"I had a deputy ask me about that (Wednesday) morning," Gibson County Sheriff George Ballard said, "he said, 'Have you been hearing about these booms that have been going on around?' ... but I'm not aware of any reports here."