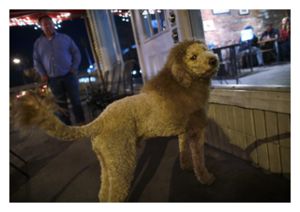 Although it was actually a uniquely groomed dog roaming loose, three callers to 911 on Tuesday reported a baby lion, the city of Norfolk said today.
Two calls came after 10 a.m. on Granby Street near the zoo and on Llewellyn Avenue.
About 1:20 p.m., another 911 caller reported seeing a baby lion on Colley Avenue at 50th Street.
"I'd like to report a lion sighting," one caller said.
"Say that again?" a dispatcher replied.
In the call near the zoo, a woman said, "There was a lion that ran across the street - a baby lion. It was about the size of a Labrador retriever." Another caller said, "I don't know if it got away from the zoo or what."
The dog, a Labrador-poodle mix named Charles the Monarch, is owned by Daniel Painter, who owns a garden shop on Colley Avenue where the dog is regularly seen. Painter said he has the dog groomed to look like the Old Dominion University mascot.
Watch the video on
YouTube
.