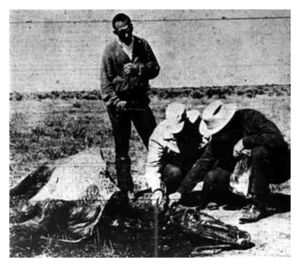 Colorado's beautiful San Luis Valley is full of interesting stories.
It's home to the oldest town in the entire state so it should come as no surprise
that a "ghostly train" still runs the lines
. The area has a thriving community of
"Crypto-Jews"
and
even the Amish
. But perhaps the most perculiar story that the Valley can lay claim to is one of particular importance to UFOlogy and general fringe weirdness: the story of "Snippy" the horse - the first cattle mutilation associated with strange lights in the sky.
On September 9th, 1967, Harry King left his humble ranch in search of Lady, his three year old mare. He and his mother had noted that she hadn't mosied back to the ranch for water in three days, something that was particularly odd considering how dry and hot the weather had been. Their fears were realized when they found Lady, or most of her anyway, laying on her side with her neck stripped bare to the bone.
Click to read full article