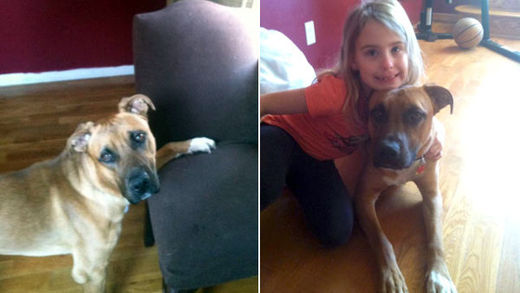 Christine O'Donovan's dog had left home before, but when the Belle Harbor, N.Y., woman's year-old dog Ridgeback-shepherd mix ran away after superstorm Sandy devastated the community, O'Donovan said, this time was different.
She and her children searched the neighborhood, but weeks went by without any sighting of Buster.
"Time went on," the mother of five children said Monday. "I was just, I said either somebody took him, and I was hoping he was in a good home, or I thought the worst that he may have been killed by either a car or, you know. A thousand things go through your head."
On Dec. 12 - about a month after Buster disappeared - a friend sent O'Donovan, 42, a text message to say she believed she'd seen a photo of the dog on Urgent Part 2, a Facebook page that posts the euthanasia schedule of New York City's Animal Care and Control.
The friend, Kim Frazier, said the dog was on the list to be killed the next day. O'Donovan called the shelter and left a message to put a hold on Buster.
"I couldn't sleep that night because I was so worried they were going to put my dog down," she said, adding that she got up early the next day and took her children to the shelter's emergency facility in Brooklyn in the hopes of recovering their dog.
He was alive.
"He was so happy to see me. I was so happy to see him, too. I cried when I saw him," she said.
Buster had lost some weight, and had developed kennel cough. He would have been put to sleep in eight hours, she said.
"I never in my life experienced something like that, just knowing that there was that chance that a family member was going to be put down," O'Donovan, who lost two cars, her garage, her basement and children's clothes and toys in the storm, said.
Buster joined the family in 2011 when O'Donovan spotted him tied to a pole on Queens Boulevard. His food bowl and toy were with him, and nearby shopkeepers confirmed that he'd been abandoned.
"I couldn't leave him there so I brought him home with me," she said.
O'Donovan said she paid the shelter $225 in fees to get the dog returned to her. She said the shelter would return $150 if she took Buster there to have him neutered.
She said the fee was unexpected, but added: "I mean, at that point I didn't care. I just wanted to take my dog home."
Richard Gentles, a spokesman for Animal Care & Control of NYC, said, in general, people retrieving pets pay fees for treatment, medication or any other services that might have been provided to the animal.
Owners who are unable to pay could have all or part of the fees waived under a subsidy program, he said, adding that such a waiver would be determined based on the circumstances of each case.
Strays that come into the shelter are held for at least 72 hours before being placed on a euthanasia list. Buster was kept for eight days.
"We try to give every opportunity to get them reunited," he said. "Thankfully, this was a good story and they're back together. That's what most important."
Gentles said the shelter wasn't able to determine Buster's ownership because the dog wore no identification. He stressed how important it was to have animals properly identified, saying it would aid in reuniting lost pets with their owners.
O'Donovan said she doesn't know where Buster was during the period he was away from home, but she said he was tagged.
"When he got out he had a collar with his tags on but when I picked him up they told me that he had had no collar or tags on him, so he must have lost it," she said.
She has since fitted Buster with a microchip.