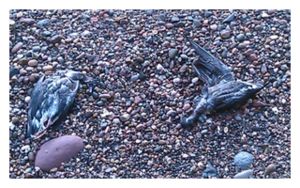 A mysterious virus or natural event has baffled residents of an Angus town, after a number of seabirds were found washed up on their shore.
At least 17 geese and other unidentified birds were found on the coast of Arbroath on Sunday morning, and dog walkers contacted The Courier to air their concerns.
Despite being obscured by dirt and debris, only two of the birds had any visible wounds. Kevin Murray recorded 18 geese and one mallard duck at the breakwater during a walk.
He said he was out for a walk along the Arbroath beach front, below the breakwater beside Pleasureland and the old outdoor pool.
"This could have resulted from a lightning strike," he said. "But could this be something else?"
A supervisor for the Department for Environment, Food and Rural Affairs (DEFRA) confirmed a report had been filed on 17 dead seabirds.
It is understood a team may not be available to clear away any contaminated birds until today, so passers-by have been urged not to interfere with the carcasses.
Asked about a link between the deaths and the storms of recent weeks, DEFRA said storms could result in changes to bird migration and stranding.
"Higher water temperatures are sometimes a factor, as are migrating birds carrying botulism," he added. "However, in the case of botulism it is easier to tell when the birds are in situ in a pond or still water."
A report should be submitted to DEFRA in the instance of finding dead swans, geese or ducks, or groups of more than three wild and garden birds.
While avian flu (H5N1) is spread between poultry and is one of the most feared flu strains, there are many more likely causes of death for anserine visitors.
Newcastle disease (ND) is a highly contagious disease of birds caused by a paramyxo virus.
The disease is a worldwide problem and sporadic outbreaks occur frequently, with the last widespread United Kingdom outbreak among partridges in 2006.