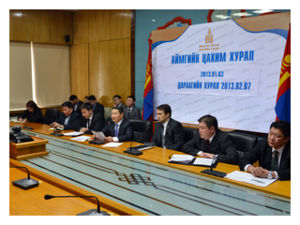 Administrators of Khovd, Uvs, Zavkhan, Khuvsgul and Dundgovi Provinces voiced their concerns about the harsh winter conditions to the Prime Minister, N. Altankhuyag, and other government staff at a video conference on Thursday.
The provincial governors participating in the video-conference remarked that as the depth of the snow has increased, most of the provinces have begun to use the hay and fodder from the state reserve and this is costly. They claim that herders will be in a very problematic situation unless the government finds a way to reduce the price of the state reserve of hay and fodder.
The Governor of Govi-Altai Province noted that Govi-Altai is planning to start using the state reserve from February 10, as it has saved enough reserve itself.
The directors of the National Emergency Management Agency (NEMA) and the National Agency for Meteorology, Hydrology and Environment Monitoring participated in the video-conference and described the recent weather trends and the conditions in the provinces. Some provinces are experiencing alarming conditions.
Currently,
some areas are experiencing temperatures of between minus 30 and minus 38 degrees Celsius during the day and minus 40 to minus 45 degrees Celsius at night.
The conditions have reached a very bad state in 55 soums of 15 provinces.
And the conditions may get worse
in further 91 soums of 17. The province with the worst winter conditions is Uvurkhangai.
NEMA has appointed working groups in 11 provinces. They are conducting research in about 20 soums of six provinces regarding the amount of hay and fodder and other items required from the state reserve.
The Governors of Uvs and Zavkhan Provinces requested that the government provide funding for clearing local roads of the massive amount of snow. The Prime Minister, N. Altankhuyag, responded that the governors should "submit the problems to the working group operating in provinces and give us a detailed plan, providing the exact amount of funds required and the exact actions that need funding. The government will discuss these plans and will address the problems."
The Prime Minister inquired about the decree to establish Draft Contracts of Results between Province Governors and Ministers and to conduct reforms in District and Province Governor Offices as the Prime Minister is soon to conclude the decree.
The government plans to hold video conferences with provincial governors every month, on the Thursday of the first week of the month.