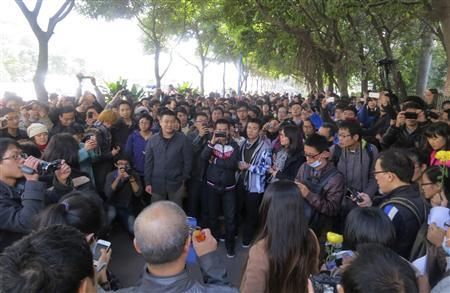 Hundreds of supporters of one of China's most liberal newspapers demonstrated outside its headquarters on Monday, backing a strike by journalists against interference by the provincial propaganda chief.
The rare anti-censorship protest happened in Guangzhou, capital of wealthy Guangdong, China's most liberal province and birthplace of the reforms, begun three decades ago, that propelled China to become the world's second-largest economy.
The outcry began late last week when reporters at the influential Southern Weekly newspaper accused censors of replacing an original New Year's letter to readers that called for a constitutional government with another piece lauding the party's achievements.
Police allowed the demonstration, suggesting the Guangdong government, led by newly appointed Hu Chunhua, a rising political star, may want to tread carefully in tackling public discontent over censorship.
The protesters, many of them youths, held signs with slogans such as "Freedom of expression is not a crime," and "Chinese people want freedom". Others made speeches defending the paper an laid chrysanthemums, a flower used in Chinese funerals, to symbolically mourn the death of press freedom.
"The Nanfang (Southern) Media Group is relatively willing to speak the truth in China so we need to stand up for its courage and support it now," Ao Jiayang, a young worker for a non-governmental organization, told Reuters.
"We hope that through this we can fight for media freedom in China," Ao said. "Today's turnout reflects that more and more people in China have a civic consciousness."
PETITIONS
On Sunday night, the Southern Weekly's official microblog denied that the removal of the New Year letter was due to censorship, saying the "online rumors were false".
Many Southern Weekly journalists distanced themselves from the statement and said the blog had been taken over by management, and pledged to go on strike the next day.
It was not clear if the strike was ongoing and whether the weekly paper would still appear on Thursday.
One Southern Weekly journalist said staff were determined to "not let those people (the propaganda department) take over our paper". Another reporter said they were not actually on strike, though some staffers had taken time off.
The attention paid to the protest on China's social media highlights the unique position of Guangdong, the first province Xi Jinping's visited after being anointed Communist party chief in November.
Several petitions have circulated on the Internet, signed by the paper's journalists as well as academics and prominent citizens, denouncing the censorship and called for the Guangdong propaganda chief, Tuo Zhen, to step down.
Xiao Shu, formerly a prominent commentator at the Southern Weekly, said Tuo required journalists to submit topics for him to approve.
"He has established within the Guangdong media a system of prior censorship of the press," Xiao said, calling for Tuo's removal.
Retired Southern Weekly editor Yan Lieshan said: "Not since the time of reform and opening up and the founding of China has there been someone like Tuo Zhen," accusing him of overstepping his authority.
Chinese Internet users already cope with extensive censorship, especially over politically sensitive topics such as human rights and high-level politics, and the popular foreign sites Facebook, Twitter and Google-owned YouTube are blocked.
By Monday, most search terms for the Southern Weekly and media censorship were blocked.
China shut the website of a leading pro-reform magazine on Friday, apparently because it had run an article calling for political reform and constitutional government.