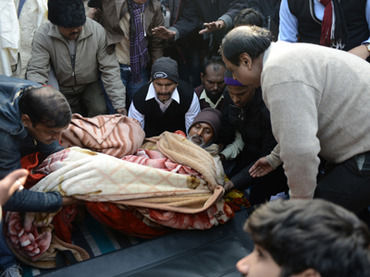 Five girls aged between 2 and 10 have been raped in two separate incidents in India, four of whom were assaulted by the same attacker. The attacks are only the latest in a string of brutal sexual assault cases that have recently outraged the country.
Both of the incidents took place in the populous eastern Indian state of West Bengal.
A two-year-old girl was allegedly raped by an 18-year-old male in Minapara village near the city of Raigani on Saturday, India's DNA news cites police as saying.
The baby's father told police the incident occurred when his wife went to wash clothes in a pond on Saturday, leaving the sleeping infant unattended.
The teenage assailant was arrested and is being held on 14-day judicial custody.
Four more girls, aged between five and ten, were reportedly raped by a 40-year old man in the town of Belatore on Thursday.
The girls had reportedly gone to a grocery shop owned by the alleged assailant Rabi Lochan Dey to buy a cake.
Dey reportedly lured the girls into a back room, where the attack is said to have taken place.
The assault became known to authorities when one of the victims was taken to hospital after passing blood through her urine, police said. Dey was subsequently arrested on Saturday night.
"We have arrested the man who is being accused of this horrific crime. A first-investigation-report (FIR) has been filed by the girls' parents, we have sent the victims to Bankura Sammilani Medical College Hospital for medical tests and the results are awaited," Gulf News cites the district police superintendent as saying.
Protesters who gathered outside Dey's shop on Sunday to decry the attack were soon dispersed by police.
Saturday's attacks are only the latest in a series of highly publicized sexual assault cases following the brutal gang rape and subsequent death of a 23-year old student in New Delhi in December.
The violence sparked mass protests throughout the country, with people, particularly women, demanding punishment for those responsible, as well as new laws to protect Indian women.
Despite attempts by the government to assuage public anger, the country has a poor record of prosecuting sexual assault cases.
India's National Crime Records Bureau reports that only 15 percent of the country's 95,000 pending rape cases made it to trial in 2011.