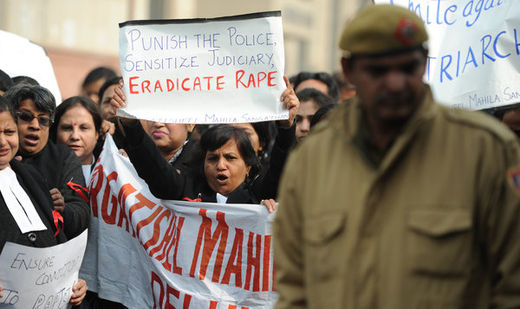 Rape, murder and other charges were filed on Thursday against five men suspected of carrying out the gang rape of a 23-year-old physiotherapy student who later died of her injuries in a case that has prompted outrage and protests across India.
A court official announced that beyond rape and murder, the charges include destruction of evidence and the attempted murder of the woman's companion, a list of crimes that could result in the rare imposition of the death penalty. A court official said the charges would be made public on Saturday. A sixth suspect is a juvenile and will have his case handled separately for now.
The case against the five men will be referred almost immediately to a new fast-track court set up in recent days to handle cases involving crimes against women, officials said. That court is expected to hold a trial soon in stark contrast to the apathy and years of delay that Indian rape victims often face when seeking justice.
The five are accused of luring the woman and her boyfriend onto a bus in South Delhi, beating them and abusing her so brutally with a metal rod during the rape that she sustained fatal internal injuries. The woman clung to life for two weeks but died on Saturday in a Singapore hospital, where she had been transferred for special care.
Gang rapes have become almost routine in India, a country that some surveys suggest has one of the highest rates of sexual violence in the world. Rape complaints increased 25 percent between 2006 and 2011, although it is impossible to know whether this represents a real increase in crime or simply an increased willingness by victims to file charges and by the police to accept them.
But something about the recent crime caught the public's attention. Among the reasons could be the randomness of the crime (most rape victims know their abusers), its brutality and the sympathetic profile of the victim.
The outpouring of anger at the crime caught the government by surprise, and there has been widespread criticism of its aggressive response to protesters, which included tear gas, water cannons and beatings by truncheon-wielding riot police officers. The government invoked a terrorism law that prohibits even small gatherings and it closed a huge portion of the capital to vehicular and pedestrian traffic, which represented a punishing loss to businesses in the area.
The government's reaction fed longtime criticism that India's police are too often used to guard the powerful from the people rather than to protect the people from predators. India's police are generally poorly trained, deeply corrupt and often viewed by women as predators rather than protectors - one reason that laws forbid officers from arresting a woman or even bringing her to a police station for questioning during nighttime hours.
The case has also led to a continuing discussion about the conflict between the aspirations of India's rising middle class and a deeply conservative and patriarchal culture that views the recent educational and economic successes of Indian women with unease and even alarm. An estimated 25,000 women are murdered each year by families who view their choice of mate as inappropriate, and Indian newspapers and television news programs now feature almost daily stories about new rape cases.
Kishwar Desai, an author, wrote an opinion article in The Indian Express on Thursday that said the gang rape illustrated to some that "a certain class of men is deeply uncomfortable with women displaying their independence, receiving education and joining the work force. The gang rape becomes a form of subduing the women, collectively, and establishing their male superiority."
Because of the intense interest prompted by the case, a vast scrum of TV cameras and reporters jostled inside and outside of the courthouse for much of Thursday. And with officials refusing to provide routine information about whether the suspects would arrive at the courthouse, rumors about the day's events ricocheted around the media scrum like a drop of water on a hot frying pan.