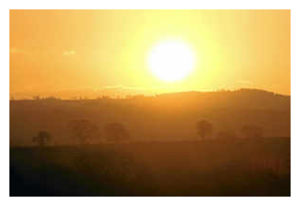 It's a long-forgotten sight that left people blinking almost in disbelief - yes, the sun finally reappeared over Shropshire yesterday.
Following weeks of cloud, wind and rain, the New Year heralded a new dawn in Shropshire as an old friend returned to the skies over the county.
After the wettest on record by the Met Office, the sun made a spectacular reappearance on the first day of 2013. This shot shows what we have been missing as bright orange rays light up the hills below. Temperatures stayed chilly, reaching just 6C (43F), but are expected to pick up towards the weekend when highs of 11C (52F) are forecast.
But the county's sunny reprieve is not expected to last for very long.
Met Office officials predict the pleasant weather will remain until Saturday, before cloud returns and temperatures begin to drop again.
By the end of next week the rain could return while the mercury will peak at 7C (45F).
It is a far cry from this time last year when the county was covered in a blanket of snow with problems on the roads and the rail network.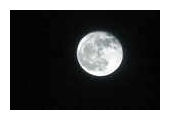 And one Shropshire resident also made the most of the clear skies by capturing a lunar image that any professional astronomer would be proud of.
Budding amateur photographer Marcus Watkin from Fauls Green, near Whitchurch, took this picture of the moon from the driveway of his home on Saturday evening.
He said: "The lens is relatively new and quite powerful so I thought I'd give it a try.
"It was a bit breezy and hard to keep the camera still as the clouds came over. There was only a small chance to get the picture by the time I'd spotted it and set the camera up."
The 45-year-old is wheelchair-bound following a motorcycle accident 10 years ago which left him paralysed from the chest down.