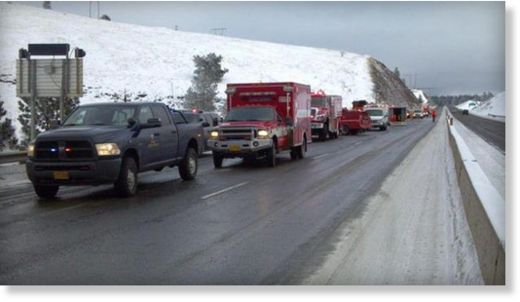 La Grande - Authorities say five people died and about 20 more were injured in a tour bus crash on an icy stretch of interstate in Oregon.
Police say the bus lost control around 10:30 a.m. on the snow- and ice-covered lanes of Interstate 84 in eastern Oregon. The bus crashed through a guardrail and went down an embankment a few hundred feet.
Rescue workers are using ropes to help retrieve people from the crash scene. State police say the charter bus was carrying about 40 people, but they did not say where the vehicle was traveling to or from.
The bus crash was the second fatal accident in Oregon on Sunday morning due to icy conditions. A 69-year-old man died in a single-vehicle rollover accident. CBS affiliate KOIN-TV in Portland
reports
both the 26-year-old driver, who is expected to survive, and the deceased passenger were wearing safety restraints.
Source: The Associated Press