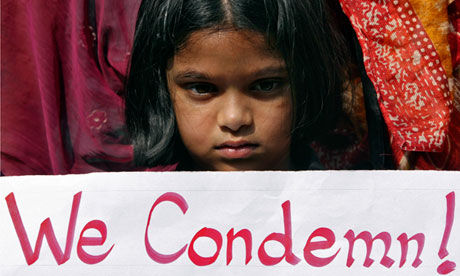 Death of student gang-raped by six men and thrown from a moving bus in Delhi two weeks ago prompts mass protests
Indian police have charged six men with murder, hours after a woman who was gang-raped and thrown from a moving bus in Delhi nearly two weeks ago died in a Singapore hospital.
Police spokesman Rajan Bhagat said the men could face the death penalty if convicted. Officials said that authorities would press for the harshest possible punishment.
The announcement came as thousands of Indians gathered to mourn and protest the death of the 23-year-old medical student. The woman, who has not been named, sustained serious internal injuries after being violated with an iron bar during the attack, which took place on 16 December and triggered mass demonstrations calling for better protection for women against sexual violence.
She died late on Friday in the Singapore hospital where she was being treated.
Her family had been keeping a bedside vigil after she suffered severe organ failure. She was flown to Singapore from India two days ago as her condition worsened.
Authorities in India reacted with statements of grief, calls for calm and a huge security operation.
Large numbers of police were deployed in Delhi to prevent demonstrators reaching parliament, the president's residence and the India Gate war memorial. The official residences of ministers, top officials and Sonia Gandhi, the president of the ruling Congress party, were also heavily guarded and metro stations were shut.
President Pranab Mukherjee said the victim was "a true hero and symbolises the best in Indian youth and women". He called on "everyone to maintain peace".
Gandhi made a rare televised address saying she spoke as "a mother and a woman".
"To all of you who have expressed your anger publicly, I want to assure you that your voice has been heard. Today all Indians feel they have lost their own beloved daughter, their cherished sister, a young woman of 23 whose life was full of hope, dreams and promise," she said.
Demonstrations were under way in most major cities of India, where the media have dubbed the woman "braveheart" after her lengthy battle to survive.
"I just want to be here to say how much she meant to all of us and how much we want nothing of this to ever happen again to any lady. Attitudes in this country must change now. There should be security," said Beena Subramaniam, a 24-year-old student who had travelled to Delhi's Janta Mantar observatory, where protests were being permitted.
Crowds in Delhi remained relatively small, with large numbers of men and vociferous calls for the execution of the rapists.
Demonstrations were also being held in the commercial capital of Mumbai and in Bangalore, the southern city known for its information technology business. Smaller commemorations were being held elsewhere, including in the victim's home village in the north of the country.
The huge deployment of security forces in Delhi reinforced the impression of many that the government was out of touch with public emotion.
"They are not joining with us, they are keeping us away," said Neeraj Kumar, 28, a businessman on his way to the demonstration.
Protests last weekend turned violent with police using water cannons, teargas and baton charges to disperse demonstrators close to parliament.
The government has set up a commission to recommend new measures to combat sexual violence against women. One is likely to be the publication on the internet of a registry of sex offenders. Others include fast-track courts and a higher proportion of female police officers.
"We have already seen the emotions and energies this incident has generated. These are perfectly understandable reactions from a young India and an India that genuinely desires change," the prime minister, Manmohan Singh, said.
Sheila Dikshit, the chief minister of Delhi, said she felt ashamed "not just as [chief minister], but as a citizen of India". She was booed when she tried to visit one of the protests in Delhi.
The case has provoked an unprecedented debate on sexual violence towards women in India. Sexual harassment - known as "Eve-teasing" - is endemic and often accepted. A series of rapes in rural areas in the state of Haryana, adjacent to Delhi, earlier this year provoked suggestions from politicians and community leaders that much sexual violence was consensual and that the age of marriage should be lowered. Women who report rapes are repeatedly ignored or harassed by the police themselves. The belief that women are responsible for sexual assault is widespread.
In the wake of the most recent incident, dozens of other rapes, often by multiple assailants, have been reported by media across India. Many feature minors.
"These are not isolated incidents. The outrage now should lead to reforms in both system and attitude, so that victims are not blamed, humiliated or suffering silently," said Meenakshi Ganguly, the regional director of Human Rights Watch.
In one incident reported this week, police jeered and laughed when a 17-year-old in Patiala, in the north-western state of Punjab, attempted to report a gang rape. She later committed suicide. Two officers have now been sacked and one suspended.
The victim in the Delhi case is from a modest family who sold their ancestral land to fund her medical training.
She was returning from watching a film at 9pm when she and her 28-year-old male friend accepted a lift in the bus. Public transport in Delhi is grossly inadequate and though the wealthy can afford cars, usually chauffeur-driven, few others can. She was assaulted for more than an hour as the bus drove on crowded public roads, and was then dumped with her friend, severely injured, by the road near the international airport. A crowd gathered but help was only called after40 minutes. Police had to borrow sheets from a nearby hotel to cover the injured pair before rushing them to hospital.
"Rape and sexual assault are the fasting growing crimes in India. Women's organisations have been raising this issue for so long and no one has acted," Brinda Karat, a veteran member of parliament, told NDTV.
Karat said the right response was not "patriarchal, patronising assurances that we will make you safe by [having you] stay in your own homes", but a concerted campaign to "ensure that women have equal rights in every public space, the workspace, cinemas, malls, the metro, buses, the street - everywhere".