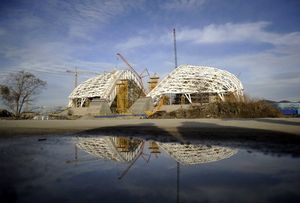 It was a scary day if you were living in Sochi, Russia, on Wednesday. During the early morning hours,
a gas pipeline that feeds a local power station exploded
, then in an unrelated incident later in the morning, a
magnitude 5.3 earthquake rocked the city
.
Sochi is to be host of the 2014 Winter Olympics, scheduled for Feb. 7-23.
There were no reported injuries from either incident.
Russia President Vladimir Putin ordered authorities to inspect Olympic sites, particularly those under construction, to ensure that there was no damage.
"Emergencies Ministry servicemen scoured through the city districts, but there was no damage," according to Irina Gogoleva of Russia's Emergencies Ministry.
Gogoleva said the reason for the explosion is unknown.