Not often does Dallas, Oklahoma City and Little Rock see snow on Christmas, but Mother Nature is ready to defy those odds this year.
Residents of Dallas, Oklahoma City and Little Rock may find it hard to believe snow is on the way for Christmas with temperatures set to warm into the 40s and 50s on Christmas Eve.
In addition, the chance of a white Christmas in all three cities is less than five percent.
However, kids and those young at heart will be happy to learn that snow will indeed fall on Christmas thanks to the arrival of a strengthening winter storm and noticeably colder air. On the other hand, travelers both on the ground and in the air are likely to greet that news with jeers.
Snow from the Rockies will reach western Kansas, western Oklahoma and the Texas Panhandle during the predawn hours of Christmas. At the same time,
severe thunderstorms and tornadoes will start erupting
across southeastern Texas.
Oklahoma City will also see a few snowflakes (and ice pellets) fly before sunrise on Christmas, but the daytime is when heavier snow will fall and accumulate around three inches.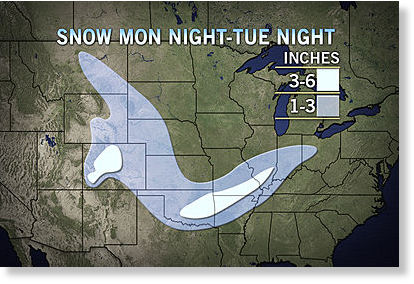 Snow will continue to evolve farther to the east as Christmas progresses, changing over from rain in Dallas during the afternoon and Little Rock in the evening. A coating to an inch will whiten Dallas with 1-3 inches expected in Little Rock.
Up to a half of a foot of snow (locally more) will bury places in between Little Rock and Oklahoma City, including McAlester, Okla., and Fort Smith, Ark.
The last time an inch or more of snow has fallen on Christmas in Little Rock as 1926 (2.5 inches).
For Oklahoma City, one has to go back to 1914 when 6.5 inches fell. The city technically had a white Christmas as recently as 2009 when 14 inches of snow was still on the ground following a Christmas Eve blizzard.
The blizzard of 2009 also brought Dallas its first measurable Christmas Eve snowfall on record.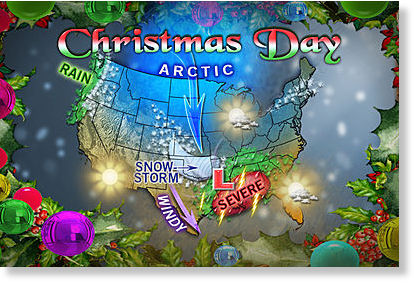 The snow this Christmas, even down to Dallas, is sure to create severe headaches for travelers.
Roads will become slick and treacherous, including Interstates 35, 40, 44 and 540. Gusty winds howling will worsen the situation by blowing and drifting the snow around, reducing visibility for motorists.
Where the snow is preceded by rain, another danger lurks for travelers as additional icy spots and any wet or slushy areas freeze with the arrival of the cold air.
Conditions will quickly improve for travelers in and around Oklahoma on Wednesday as the potent winter storm heads northeastward
toward the eastern Great Lakes and Northeast
.