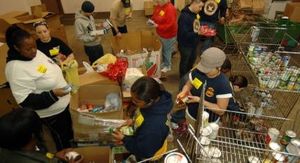 Debt-ridden households could kill off economic recovery when interest rate rises, says Resolution Foundation
The number of people who will turn to food banks for sustenance is expected to double this Christmas, as a new report warns that millions more families face a financial "precipice" due to high personal debts, flatlining wages and future interest rate rises.
With three new food banks opening every week in the UK, the charity that oversees Britain's 292 emergency outlets, the Trussell Trust, says it expects to feed 15,000 people over the Christmas fortnight alone, almost double the number last Christmas.
At the same time, a study published by the Resolution Foundation, an independent thinktank, says millions of households with low to middle incomes will be pushed close to the edge if they are unable to reduce their debts, including mortgages, before the cost of borrowing returns to more normal levels.
Volunteers who are giving up part of their holiday to help run food banks - from students to pensioners and representatives of local businesses - will be out in record numbers across Britain this week, distributing food to those who cannot afford a decent Christmas. Their aim is also to tackle "hidden hunger" - that affecting people who refuse to accept free food because they think it carries a stigma.
The Resolution Foundation report exposes how millions of families, unable to pay off debts, are facing a crisis if interest rates are pushed up in coming years to keep inflation down.
Matthew Whittaker, senior economist at the Resolution Foundation and the author of the report, On Borrowed Time?, said: "Debt levels are a major concern for a substantial number of families struggling under a burden of repayments, even as things stand.
"There is a very real prospect that borrowing costs will rise more quickly than incomes and that lenders will become less flexible over repayments. Many households are already in a very exposed position, even with interest rates on the floor, so even small changes in the financial outlook could have a dramatic effect.
"All this threatens to make the burden unbearable for many debt-loaded households, particularly those on lower incomes. This would be dangerous at any time, but it looks especially so in the current era of frozen wages, under-employment and faltering living standards."
Figures published last week by the Bank of England showed that 3.6 million households - 14% of the total - now spend more than a quarter of their income on debt repayment, including mortgage costs. The Bank also says that up to 1.4 million households (12% of those with mortgages) are in special measures with their bank, having asked for temporary deals from their lenders.
The RF report shows that debt is distributed unevenly across income groups, with those in the poorest 10% of households spending on average 47% of their monthly income on debt repayments, compared with 9% for the richest 10%.
It also highlights how 2.4 million households with a mortgage (one in five) are spending more than 25% of their gross income on mortgage repayments alone - at a time when interest rates are at just 0.5%. Before the debt boom of the 2000s, only 15% of households were in this position, even when interest rates were as high as 7%.
The debt problem is likely to be all the more serious for struggling families because wages and household incomes are likely to stagnate over the next few years. The RF suggests that the average full-time wage will rise no higher in real terms than its 2000 level of £26,200 until at least 2017 - down from a peak in 2009 of £29,000.
Few economists expect interest rates to rise in the near future - almost certainly not in 2013 - but after that the Bank of England would be under pressure to raise rates to see off the threat of inflation were the economy to show signs of recovery.
The report notes the delicate balance that the Bank - under its newly appointed governor, Canadian Mark Carney - will have to strike between controlling inflation through raising interest rates and creating a risk of mass mortgage default and increased bankruptcy rates, which could combine to derail any nascent recovery in the economy.
The report says: "The prospect of interest rates rising and forbearance [special arrangements people set up with banks to help them through] being removed while incomes continue to stagnate heightens the risk of future defaults. Such an outcome may yet slow down, or stall, economic recovery: at some tipping point the micro issue becomes a macro one. In this eventuality, we may find that the green shoots of recovery just sprouting in the UK economy prove to be living on borrowed time."