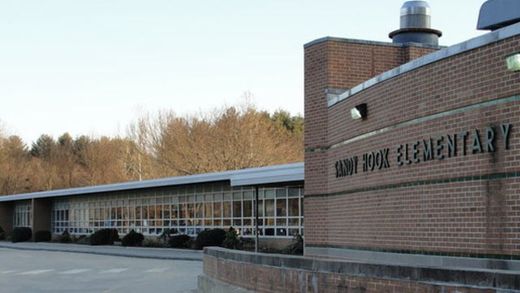 Newtown - In the frantic moments after a gunman stormed into Sandy Hook Elementary School on Friday and gunned down 26 people, most of them children, authorities expected to encounter a second shooter as they converged on the building, according to a recording of a 911 tape that was independently verified by Hearst Connecticut Newspapers on Tuesday.
"
I have reports of two shooters running past the building
, past the gym, which would be rear," a dispatcher said on the tape, before trailing off. Shortly afterward, the operator told a State Police trooper who was racing to the scene from the nearby Troop A barracks in Southbury to "make sure you have your vest on."
A review of the recording suggests that authorities were unaware of the grisly scene they were walking into.

Comment: This is the full-length version:


But here is an abridged version to save you listening to 'encrypted' chatter which dominates the back and forth radio calls:



Confusion reigned among authorities as SWAT team members and other officers swept the building for several hours, triggering a wave of erroneous media reports.

Comment: The reports were certainly 'erroneous', but let's not forget that the sources of these reports were "law enforcement officials who could only speak to the press on condition of anonymity."


At one point, several major networks, including CNN, Fox News and The Associated Press, were reporting that the shooter was Ryan Lanza, 24, citing a law enforcement source familiar with the investigation. A number of news outlets also raised the possibility that there was a second gunman.

Comment: No, they said that 'law enforcement officials' CONFIRMED that a second gunman, armed with 4 weapons and wearing a bulletproof vest, had been arrested in the woods and taken into police custody. They also named that person as 20-year-old ADAM LANZA.


Investigators cast a dragnet over the town and neighboring communities to try to catch the phantom gunman.

Comment: And catch him they did.


By the end of the day Friday, investigators said they were confident that the suspected shooter was Ryan Lanza's 20-year-old brother, Adam, and that he acted alone. Any reports that another suspect fled the scene in a purple van were unfounded, they said.
The two-hour-long recording, which was authenticated Tuesday by several current and former emergency dispatchers, surfaced on YouTube. It captures the aftermath of the shooting that ended only after 26 people -- 20 of whom were children, none older than 7 -- were killed in a fusillade of bullets.
Bursts of gunfire were heard coming from Sandy Hook Elementary School over an 11-minute period, starting around 9:35 a.m. Friday, according to a review of the call. The details of what happened inside the building during that window are still being sorted out by investigators.

Comment: "Bursts of gunfire" would have come from a semi or fully automatic rifle... the official story is that Adam Lanza was found dead with two handguns.


Some parts of the transmission were
encrypted
and thus inaudible.
Investigators said Lanza first killed his mother at their home on Yogananda Street, then drove to the school, armed with a rifle, two handguns and a shotgun. Initial reports indicated that the shooter "could have multiple weapons, including long rifle and shotguns," the recording shows.

Comment: Actually, it is clearly broadcast in the emergency services' audio feed that "multiple weapons, including long rifles and shotgun" were found inside the building. So it's not "could have" found, it's were found.

It's also interesting that "investigators" are now saying that Adam Lanza drove to the school with "a rifle, two handguns and a shotgun." The rifle was "found in the trunk of a car" that morning, followed by the discovery of the shotgun in what must be a different car, later that evening. Look at this video where the discovery of the rifle is broadcast on US news channels:


Note that it's dark by now and that .233 Bushmaster rifle is supposed to have been long since found. It doesn't seem likely that they overlooked the shotgun during their first sweep of the car then only found it hours later while a helicopter happened to be overhead with permission to film...


Around 10 a.m., first responders discovered the extent of the carnage inside Sandy Hook Elementary School.
"We need buses here, ASAP. Call Danbury if you have to," an unidentified voice on the line says. "Get me the bus up here right away. Send the ambulance up, right up to me."
When a dispatcher asked about how many ambulances were needed, someone replied that "they're not giving us a number."
The area was soon swarming with local and state police,
as well as agents from the FBI, the Bureau of Alcohol, Tobacco, Firearms and Explosives and other agencies.
Multiple news outlets reported that Adam Lanza shot himself as authorities closed in.

Comment: Indeed, and as we've seen, "multiple news outlets" can produce "erroneous" reports.


Witnesses at the scene Friday morning reported seeing a man in handcuffs being led out of the woods next to the school by police. The man, who witnesses said was wearing camouflage pants, insisted on his innocence as he was being led to a state police cruiser while parents looked on. He
apparently
was released after being questioned.

Comment: "Apparently"? Who is the source for this information? Nothing has been officially said about this since the shooting last Friday.


Later that day, it was reported that authorities were hunting for a purple van in Danbury and Newtown that was believed to have been tied to the shooting. That lead also turned out to be an
apparent
dead end.