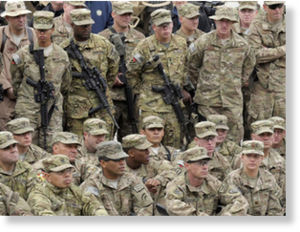 Thousands of dollars' worth of presents wrapped and ready to be sent to US servicemen stationed overseas were stolen from a California warehouse this week.
The Move America Forward charity was preparing last minute holiday care packages to be mailed to troops in Afghanistan on Monday when it discovered that around 25 parcels had been stolen from a locked trailer within a warehouse in the capital city of Sacramento.
Scott Raab of Move America Forward says someone must have broken into the facility before Monday morning and physically broke the lock that was securing a portion of the almost 400 packages.
"You know it's really sad that someone would take this from the troops," Raab tells a local CBS affiliate.
Move America Forward sends care packages regularly to US troops stationed overseas throughout the year, but the latest shipment was special in that it included hand-written notes meant to raise the spirits of the servicemen during the holiday season.
"All these are comforts of home," says Raab. "This is really unfortunate what happened."
"We are really hoping that the person who took them will drop them off at the post office," he tells the
Sacramento Bee.
The latest news out of the Golden State comes amid a rash of robberies this holiday season targeting charities. In Atlanta, Georgia earlier this month, around 10,000 toys were stolen from a locked facility that was storing gifts to be sent to children. In Massachusetts, around a dozen Christmas trees were also stolen this month from a group that sells the evergreens in order to raise money for the local Children's Hospital. WHDH News reports that the charity in West Roxbury, MA expected to fall several hundred dollars short of their expected goal since having the trees stolen.
Days earlier in nearby Shrewsbury, MA, upwards of $3,000 worth of toys were taken from the St. Anne's Human Services' Giving Tree charity.
"I don't know why someone would take from children that are four or five years old," JoAnn Keegan of St. Anne's tells the
Southborough Daily Voice
. "It's sad."