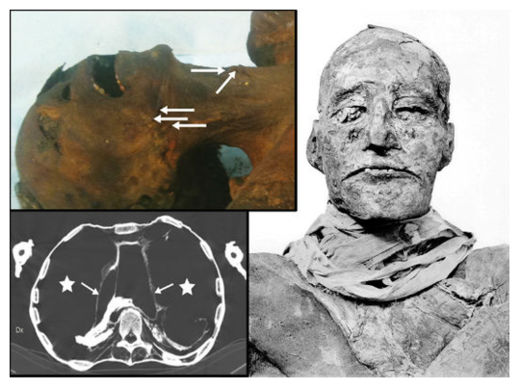 For more than a century, Egyptologists have puzzled over the mysterious demise of Ramses III in 1155 B.C.E. According to trial records preserved on the Judicial Papyrus of Turin, an assassin murdered the pharaoh during a bloody palace coup. But was this truly the case, and if so, who led the plot?
A new study published today in
BMJ
shows that Ramesses III died violently after conspirators slashed his throat and reveals that one of the alleged ringleaders, Ramesses's son Pentawere, may have later been strangled. The research team arrived at these findings after analyzing both DNA samples and CT scans from two mummies: Ramesses III (with linen bandage, above right) and a previously unidentified young man found with him in a cache in Deir el Bahari.
The unidentified 20-year-old (shown with arrows pointing to unusual compressed skin folds) proved to be one of Ramesses's sons: He appeared to have been strangled (also evidenced in the scan by overinflated thorax) and buried with a goat skin, a pelt that ancient Egyptians deemed ritually impure and therefore a mark of dishonor befitting an assassin. Sitting on a throne has long been a perilous business, it seems.