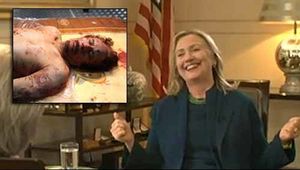 Secretary of state, 65, likely to miss congressional hearings into Benghazi attack next week after fall brought on by stomach virus
The US secretary of state, Hillary Clinton, is recovering at home after suffering concussion in a fall brought on by illness, her spokesman said on Saturday.
Clinton, 65, had already been forced to cancel a planned trip to the Middle East and north Africa this week. It is thought that she will now miss congressional hearings due next Thursday into the September attack on the American consulate in Benghazi, Libya, which killed four Americans including the ambassador, Chris Stevens.
A spokesman for Clinton, Philippe Reines, said the secretary of state came down with a stomach virus last weekend. "While suffering from a stomach virus, Secretary Clinton became dehydrated and fainted, sustaining a concussion," he said.
"She has been recovering at home and will continue to be monitored regularly by her doctors," Reines said in a statement.
On the recommendation of doctors, Clinton will work from home in the coming week, but will remain in contact with department staff. "She is looking forward to being back in the office soon," Reines said.
Clinton has been noted as a particularly hard-working secretary of state. Earlier this year, the she alluded to the effects of heavy travelling. Asked in January at a state department staff event of her intentions after the presidential election, she replied: "I think after 20 years, and it will be 20 years, of being on the high wire of American politics and all of the challengers that come with that, it would be probably a good idea to just find out how tired I am."
But she did not completely rule out a return to politics, adding: "Everyone always says that when they leave these jobs."
Clinton has been tipped as a potential presidential candidate in 2016. Some Republicans have already expressed concern that a Clinton-led ticket would be hard to counter.
Last week, former House speaker Newt Gingrich told
Meet the Press
on NBC: "If the competitor in '16 is going to be Hillary Clinton, supported by Bill Clinton and presumably a still relatively popular President Barack Obama, trying to win that will be truly the Super Bowl ... and the Republican party is incapable of competing at that level."
Clinton has said she intends to step down as secretary of state. US ambassador to the UN Susan Rice had been thought to be a favoured candidate. But she pulled out last week under pressure from Republicans, who had vowed to block her from the position due to concerns over her handling of the Benghazi attack.
That appears to have left the door open for Senator John Kerry, chairman of the Senate committee on foreign relations, who lost to George W Bush in the 2004 presidential election.
The
Chicago Sun-Times
reported Friday that President Barack Obama has already settled on a Kerry pick for the post of secretary of state after Clinton steps down.