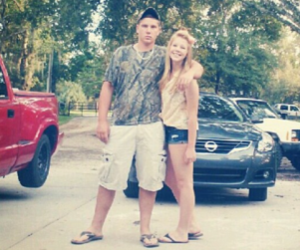 Jessica Laney, 16, hung herself after being bullied online by some internet trolls, one of whom said: "Can you kill yourself already?"
Laney (pictured with her boyfriend) was found dead at her home in Hudson, Florida, on Sunday night, reports the
Daily Mail.
Laney created a profile on Ask.fm, where people can post questions anonymously. Some website bullies wrote that she was "fat" and a "slut."
Valeria Canales told ABC News: "My friend Jessica Laney took her life. She was constantly bullied and bullied. And she was pushed and pushed to the point where she couldn't handle it anymore."
"Ask.fm is a website where people can ask anonymous questions to anyone they want. And that's how Jessica was constantly put down and bullied... It needs to be shut down. She was a beautiful girl & everyone loved her. She's gonna be missed. We have to put an end to bullying. Please help."
However, Laney chose to frequently log on to Ask.fm to reveal her troubled family life and insecurity over her body.
Laney's internal turmoil did not reflect that "everyone loved her." Her writings on Ask.fm seemed to say just the opposite: "My brother and I don't talk anymore. My dad, yeah he ignores me like I don't even f*cking exist. I have almost no friends I actually trust. My mom bitches at me for the littlest things. I am basically all alone."
"If you ever feel this low I just wanna say it's not your fault. I know you feel useless, broken, not wanted and alone. I was there. But I promise you it will get better. You will get through the endless pain I promise school will be over soon and you can get away from the judgmental f***s. Nothing is worth it; it will all get better."
Pasco County Sheriff's Spokesman Doug Tobi said: "Our thoughts and prayers go to the Jessica Marie Laney's family as they deal with their loss."
On Tuesday, students at Fivay High School, where Jessica attended, wore purple in tribute to the troubled teen.
The students are also pushing for the Ask.fm to be closed down, even though Laney chose repeatedly to log on and was not forced to become a member.
Sheriff Chris Nocco said in a statement: "What we can say is that we are going through the social network sites right now. We don't even know if a crime occurred. It could have been nasty words that were said, that led this young girl to take the actions that she did."
Ask.fm founder Mark Terebin posted a statement in defense of his website: "Ask.fm is just a tool which helps people to communicate with each other, same as any other social network, same as phone, same as piece of paper and pe
n. Don't blame a tool, but try to make changes... start with yourself... be more polite, more kind, more tolerant of others... cultivate these values in families, in schools."