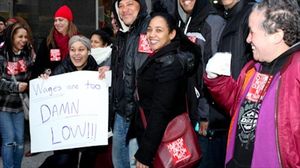 Workers from a number of fast food chains around New York City held walkouts and demonstrations calling for a living wage Thursday morning.
According to
The Atlantic,
the protests, part of the
Fast Food Forward
campaign, were organized by groups like New York Communities for Change (NYCC), Service Employees International Union (SEIU) and community organizations in a push to get them to form a union.
The impetus for the campaign, said NYCC organizing director Jonathan Westin, was his group's discovering that most employees at companies like Wendy's, McDonald's, Burger King and Kentucky Fried Chicken couldn't cover basic necessities like transit fare or food, or even to be able to make their rent making the minimum wage of $7.25 an hour, forcing them to rely on public assistance.
"The fast-food industry employs tens of thousands of workers in New York and pays them poverty wages," Westin
told The New York Times.
"A lot of them can't afford to get by. A lot have to rely on public assistance, and taxpayers are often footing the bill because these companies are not paying a living wage."
In a video released by the campaign Wednesday, one employee who lives in a shelter says nearly all of his paycheck goes toward basic needs.
"After taxes I see no more than $220 [a week]," said Wendy's employee Joshua Williams. "Most of that money goes toward my son and food and transportation throughout the week."
The
Times
reported that the first walkout occurred at a McDonald's at Madison Avenue and 40th Street, where 14 of the restaurant's 17 morning shift employees went on strike. At least
two more protests
were scheduled for Thursday.
Watch footage from one demonstration,
streamed Thursday morning by 'On The Front Lines,'
below.
And Joshua Williams and McDonald's employee Chyna Scott talk about trying to make a living on fast-food wages
in this video
from Fast Food Forward below.