A viewer told CBS 5 about some surprising video captured early Sunday morning in San Francisco's Mission District.
In the video, a series of lights fly in formation above the city before appearing to take a diamond shape and eventually disappearing.
Several commenters on the Mission Mission blog said that they had also noticed the aircraft.
The video, which shows seven lights in a row, was shot by Enrique Barrios with his cellphone.
"Looked like flame, you know, fireballs in the sky," Barrios said in an interview with CBS 5.
David Shelley took pictures as the lights hovered over him early Sunday Morning. "Kind of looked like a fiery, floaty thing," he said.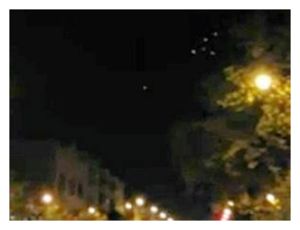 Witnesses said the lights flickered on and off, then took different shapes.
"So in the beginning they looked like flying candles, and then afterwards they started making formations, triangular formations," said Barrios.
Bing Quock, assistant director of the Morrison Planetarium at the California Academy of Sciences said, "It's not a planet, it's not a constellation, it's not meteors, it's not the moon."
Quock said there is a plausible explanation. "It looks to me like it could have been balloons, carrying lights," he said.
When asked if it could be some alien starship, Quock said, "That would not be my first guess, no."
"I am 100 percent sure this was a UFO," Barrios said. But he admitted having a little Christmas cheer the night he took the video.
"Absolutely, tequila was maybe an influence here," he said, laughing.
CBS 5 contacted federal aviation officials, and they said they have received no reports of strange lights in the sky, and aren't sure what the aircraft spotted in the video is. So for now, the flying objects remain unidentified.