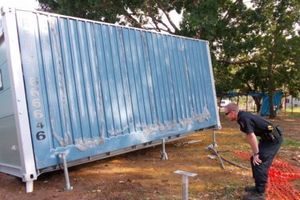 A magnitude 7.3 earthquake in the Banda Sea off Indonesia has been felt more than 600 kilometres away in Darwin.
Geoscience Australia says there could be more aftershocks from the quake that shook the Top End of the Northern Territory overnight.
Tremors were felt in Darwin and Katherine at about 2.30am local time and were the strongest in the north for about 20 years.
Overnight staff at the Darwin weather bureau evacuated their third-storey office while the building shook.
Duty forecaster Angeline Prasad says the tremor was the strongest she has felt.
"The building started shaking and it just became worse," she said.
"It is the worst tremor I've felt in Darwin.
"When things started falling off shelves we decided to go to an evacuation point, which is outside the building."
Geoscience senior seismologist Dr Mark Leonard says, while there have been quakes of a similar magnitude felt in Darwin before, people are describing last night's tremor as particularly intense.
"We have had a few reports from people saying they think it is the strongest, even though we know if you go back 20, 30 years there have been a number of earthquakes this size," he said.
"But there might have been some sort of focusing of the waves this time."
An engineering specialist says the tremor is a pointer to why building standards should be reviewed in northern Australia.
Professor Kevin McKew from Central Queensland University says it is a warning that a large, damaging earthquake could strike at any time.
"The big one is yet to come," he said.
"We haven't had a great earthquake, as I would call it, but we've had plenty of warning calls.
"I think it will happen, it's just a matter of when will it happen.
"We know it is probably a once in 300 or 400 year earthquake but we have no indication to say when it's about to happen.
"But we just have to plan for it."
One Darwin resident says she was sleeping when her bed started moving.
"The bed was really shaking violently, all my sliding doors rattling and windows were rattling, and the wardrobe was sliding violently and rattling," she said.
"It just seemed to go on and on and on, and then when it died down, it even had another violent shudder again.
"It certainly got the adrenaline running."
Residents further south in Katherine, 200 kilometres south of Darwin, also felt tremors.
Indonesian geophysics officials also said they had not received any reports of damage.
The quake was felt only weakly in the districts of North Halamahera and Morotai which were closest to the epicentre, Indonesia's National Disaster Mitigation Agency said in an update.
ABC/AFP