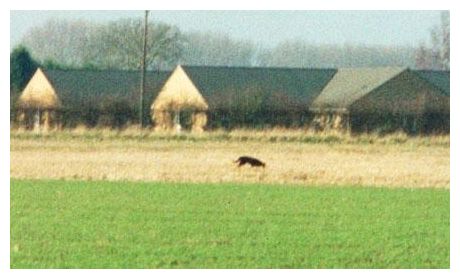 The mysterious "Fen Tiger" has been reported prowling the Cambridgeshire countryside again - but this time it had a friend.
A cyclist claims to have spotted two large black "panther-like creatures" in the snow, on his way to work at the Imperial War Museum Duxford.
Gavin Elliott-Turner was cycling down Fowlmere Road towards Melbourn at about 5.45am on Wednesday when he saw two pairs of eyes glaring at him.
He said: "They were as clear as day, just 30m away, I thought 'Jesus, there are two huge black cats in front of me'.
"They were very clear because of the contrast with the bright snow.
"They looked at me for a couple of seconds, then they ran off across the fields.
"They then stopped, looked around, then took off at a tremendous pace. I saw the footprints they had left.
"I didn't want to hang around as I felt very uncomfortable, and taking a picture would have meant lingering.
"My instincts said get the hell out of here. I thought they may want me as breakfast."
There have been numerous reports of sightings of a jet black cat, known as the "Fen Tiger", in Cambridgeshire, which was first reported in Cottenham in 1982.
The most recent sightings have been made in villages between Royston and the M11.
In August Alan Bates, 65, of Fordham, near Newmarket, reported seeing a black panther-like beast on a country road in Shepreth.
Last year Shepreth Wildlife Park sent out investigators after four people reported sightings of big cats in a 10-mile radius around Royston and Melbourn.
The park set up cameras, but nothing was found.
Mr Elliott-Turner, 41, of The Moor, Melbourn, said the Fen Tiger is not a myth.
He said: "They are out there and people need to know.
"They really were big - they looked about 3.5ft tall and 4ft long, with a very long tail.
"I am not mad. Some people have laughed at me, but I know what I saw - I am 100 per cent. It was definitely not a fox, deer, domestic cat or badger."
A Cambridgeshire police spokeswoman said: "We were called by a man who reported seeing two black panthers at about 6.30am on Wednesday, December 5, on the way to Melbourn. We have recorded the report."