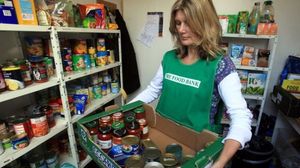 The number of food banks or soup kitchens opening up in Britain has grown at an alarming rate due to the economic crisis claiming more victims living below the poverty line.
This comes as the number of people, who cannot afford to eat, has doubled in the last year and new food banks are being set up every three days to help the British people cope with financial needs.
According to Euronews,
up to 13 million people in Britain are now living below the poverty line.
The coalition government's harsh benefit cuts, low wages, rising energy and costs for transport, add weight to the uneasiness of the lives of not so fortunate people in Britain.
Food bank network director Adrian Curtis said, "We are currently growing a new foodbank project somewhere in the UK every three days, which I think demonstrates the scale of what we are dealing with and
we are still only touching the tip of the iceberg
."
According to the European Commission, up to 40 million people in the UK are suffering "material deprivation."
Meanwhile, inequality in Britain has once again been highlighted while growing faster than any other rich country, with the top 10 percent having incomes 12 times greater than the bottom 10 percent, according to the international Organisation for Economic Co-operation and Development (OECD).