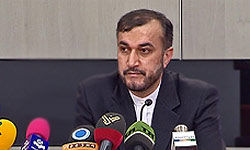 Iranian Deputy Foreign Minister for Arab and African Affairs Hossein Amir Abdollahian lashed out at certain countries for supplying military aid to the Syrian rebels, and voiced Iran's steadfast opposition to foreign military intervention in Syria.
Speaking on Thursday, Amir Abdollahian reaffirmed Iran's support for a political solution to the Syria unrest and warned that foreign interference could further endanger security in Syria and the region.
As regards reports that Syria might have plans to use chemical weapons during the ongoing turmoil in the country, the Iranian official said certain countries bring up such allegations to achieve their vicious objectives.
He said that Syria will neither use chemical weapons nor allow "foreign-backed irresponsible" militants to possibly use such weapons.
Syria is past the period of security crisis but certain parties send weapons into this country and allege that Syria might use chemical weapons in a bid to pursue specific objectives, Amir Abdollahian added.
His remarks came a few days after US President Barack Obama claimed that Syria intends to use chemical weapons against the militants and warned against the consequences of such a move.
NATO Secretary General Anders Fogh Rasmussen also warned on Tuesday that any use of chemical weapons by Syria's government against gunmen would prompt an immediate military response.
Damascus has strongly rejected the allegations.