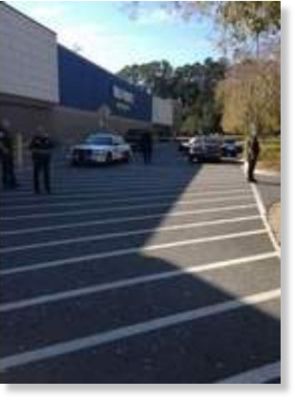 Tallahassee, Fla. police are interviewing witnesses outside of a Walmart where two people were shot on Black Friday 2012.
A police spokesman says the victims were being treated Friday at an area hospital for wounds that weren't considered life-threatening. It wasn't immediately known whether the shooting happened inside or outside the store or whether it was related to Black Friday shopping.
No arrests have been made.
Meanwhile in Moultrie, Ga., a Walmart store there experienced craziness of an uncontrollable crowd, though there are no
immediate reports of injuries. (See a video of the incident at the end of this story.)
Customers can be seen at the Moultrie Walmart scrambling to get the Straight Talk Unlimited Plan for wireless offering unlimited talk, text and data. Walmart released the following statement in response:
"The safety of our customers and associates is always a top priority for us. We prepared each of our 4,000 stores for Black Friday with a specific plan unique to each store to manage the crowds as they took advantage of our in-store specials.
Our store in Moultrie included six police officers on site plus an outside service to help manage the crowd.
Despite this presence, one particular item briefly created excitement among our customers that led to the images on the video.
We're glad everyone was okay. This was unfortunate, isolated and not reflective of the safe and successful events at our stores across the country."
In Tallahassee, however, it appears the shooting may not be related to shopping, though the shooting definitely disturbed shoppers.
"We're cooperating with the Tallahassee Police Department and working with them in hopes of identifying who did this," said Randy Hargrove, Walmart company spokesman. "The safety of our customers and associates is always a top priority for us."
Hargrove said the last Walmart Black Friday sale ended at 7 a.m.
Kollet Probst said she had finished much of her holiday shopping when she returned to the Walmart on Apalachee Parkway to make a return.
She said she was waiting in the customer service department when a crowd of people came running into the store from the parking lot. Shots started going off, and customers ducked for cover.
"Everybody started trying to find a place to hide," she said.
Probst said she and other frightened shoppers huddled in a restroom and tried to call 911. Minutes later they emerged and saw two shooting victims, one woman and one man, who were being tended to by police near the front of the store.
She said the incident began outside of the store and the shots were mostly fired near the atrium by the store's front entrance.
"I don't think that it had anything to do with merchandise," she said. "It was so odd and unprovoked that it just doesn't seem like it was a Black Friday mob."
Probst, 30 of Tallahassee, said she lives about a mile from the store and is worried that a gunman remains on the loose.
At approximately 12:30 p.m. Tallahassee Police received a call to respond to the Walmart located at 3535 Apalachee Parkway, said Tallahassee Police Department spokesman David Northway.
Police discovered two victims suffering from non-life threatening gunshot wounds. They have been transported to a local hospital where they are being treated.
No further details about the victims were provided at this time.