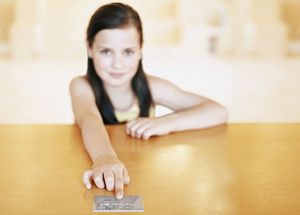 The cashless society came a step closer today, with the launch of a service that offers a prepaid Visa card for children aged 8-16 and claims to be 'pocket money for the digital age.'
PKTMNY allows parents to deposit money into an account for their children to then use a Visa card linked to it to withdraw money, use contactless payments in shops and buy items on the internet.
But it's improbable that most parents will take up Visa's offer to replace old-fashioned pocket money. There is a raft of fees and charges: a £5 one-off joining fee per family, and then a £1 monthly charge per child. So if you have two children, the first year would cost you £29 in charges.
PKTMNY says this is to offset some of the banking costs.
All payments direct from your bank account are free of charge, but it has to be a standing order. Each time you add money to the account using a credit card there is a 1.21 per cent fee and for a debit card a 50p fee.
There is also a 50p fee for every time a withdrawal is made via a cash machine and £2 abroad. However, spending money in shops and online is free.
Parents can also have strict control on where kids spend the money, for instance only being allowed to use the card for shops on the High Street and putting blocks on cash withdrawals and internet purchases.
PKTMNY says the card cannot be used in pubs, bars, nightclubs and some restaurants, wine and beer wholesalers, cigar and tobacco shops, escort services and massage parlours, automated fuel dispensers, race tracks and adult entertainment venues, websites or TV channels.
The card is also contactless. This may concern some parents, as if the card is stolen, purchases under £15 made in shops that accept contactless payments can be made without a PIN number - although, irregular activity will block the card if a series of purchases are made near each other.
There is also the issue of the funds not being protected under the Financial Services Compensation Scheme (FSCS).
We asked a spokesman whether it is protected, and he said: 'In terms of the deposit protection, the PKTMNY service utilises e-money which comes under the European payment services directive and is regulated in the UK by the FSA and in Gibraltar the FSC.
'As our partner bank is in Gibraltar, PKTMNY accounts are regulated by the FSC. The e-money directive specifies that customers' funds can be protected by either placing them, or specified assets in which they are invested, in a segregated account or accounts or by holding an insurance policy or bank guarantee.
'In the case of PKTMNY customers money is protected by being placed in a segregated customer funds account with NatWest Bank in accordance with the directives rules. The FSCS does not protect e-money which includes money on pre-paid cards. This is because e-money does not satisfy the definition of a "deposit" and so is not within the scope of FSCS protection.'
If there is not enough money in the account for a transaction your child is attempting to make, the transaction will be refused when the retailer seeks authorisation.
It says that on rare occasions a retailer may fail to seek authorisation for a transaction, and may take the account into a negative balance.